Hyundai iLoad review (2009-2019)
Cheap, but no longer especially cheerful
PROS
Attractive pricing and value
Five-year warranty
Car-like interior
CONS
Poor payload and fuel economy
Rivals are nicer to drive
Very limited model range
Summary
When the Hyundai iLoad was introduced in 2009, it was like a modest breath of fresh air in the medium van sector.
Sharing its underpinnings with the Hyundai i800 people carrier, this budget-friendly mid-size van came with a plush, car-like interior and commendable levels of refinement and ride quality compared to rivals available at the time. The five-year, 100,000-mile warranty was an eye-opener, too.
However, things have moved on. And revisiting the iLoad following the upgrade of its engine to meet Euro 6 emissions regulations – on sale from 2017 – tells us that Hyundai hasn't been making much of an effort to keep up.
Hyundai iLoad variants
The iLoad is a simple proposition. There's just one body size – with no variation in length, wheelbase or roof height – and only a single engine.
You don't even get the option of trim levels in 2017 (it's iLoad SE or nothing), though you can get an iLoad crew van with a second row of seats, in addition to the regular two-seater panel van.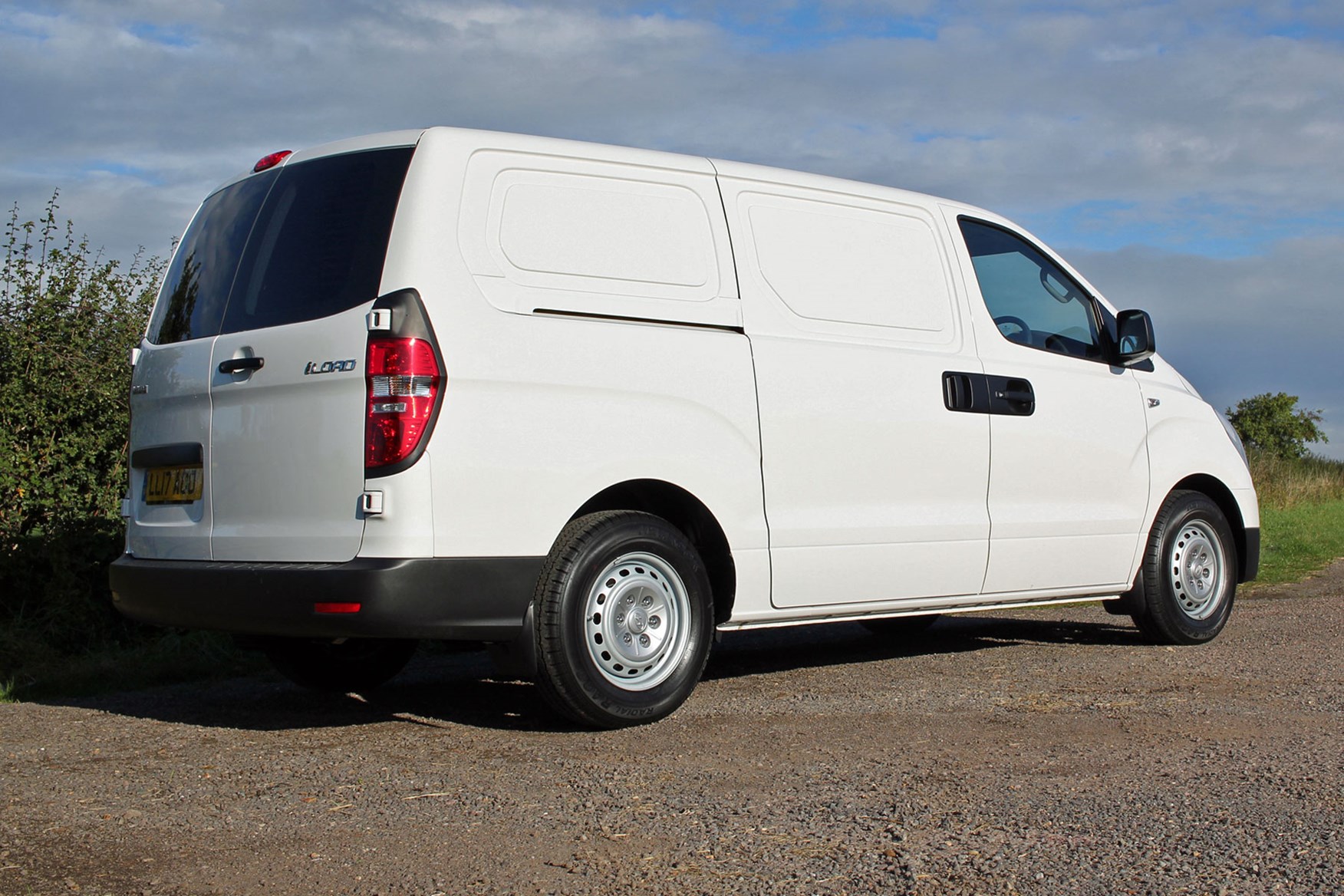 The engine is also rather unusual these days for being a 2.5-litre four-cylinder turbodiesel when most rivals limit themselves to 2.0 litres at the most.
So while it offers only a modest 116hp it combines this with a potent 343Nm of torque, so shouldn't struggle to shift its full payload.
Poor payload and fuel economy
Of course, in this respect the engine is helped by the reality that the iLoad also offers the lowest maximum payload rating in the entire medium van segment – 1,205kg at best according to the latest Euro 6 technical data (and less than that for Euro 5 models).
Fuel economy is also the worst in the mid-size sector at a claimed 37.7mpg in Euro 6 form (it was 37.2mpg for Euro 5). Regardless of emissions era, the iLoad manages to do without AdBlue, so you are spared that expense.
Hyundai iLoad rivals
As a medium van, the iLoad's major rival is the Ford Transit Custom – introduced in 2012, this is by far the best-selling van of any kind in the UK.
If the five-year warranty is important to you, you might also consider the Nissan NV300 (a member of the Renault Trafic / Fiat Talento family) or the Toyota Proace (a rebranded version of the Citroen Dispatch / Peugeot Expert), which offer similar cover.
>> Nissan NV200 vs Toyota Proace – battle of the five-year warranties
The iLoad is considerably cheaper than the Mercedes-Benz Vito and VW Transporter, but you might consider a new Hyundai as an alternative to used examples of those.
Facelift in 2018, taking off sale in 2019
Hyundai facelifted the iLoad van in late 2018, giving it a much more modern look on the outside (as pictured below) - but not much of a makeover on the inside.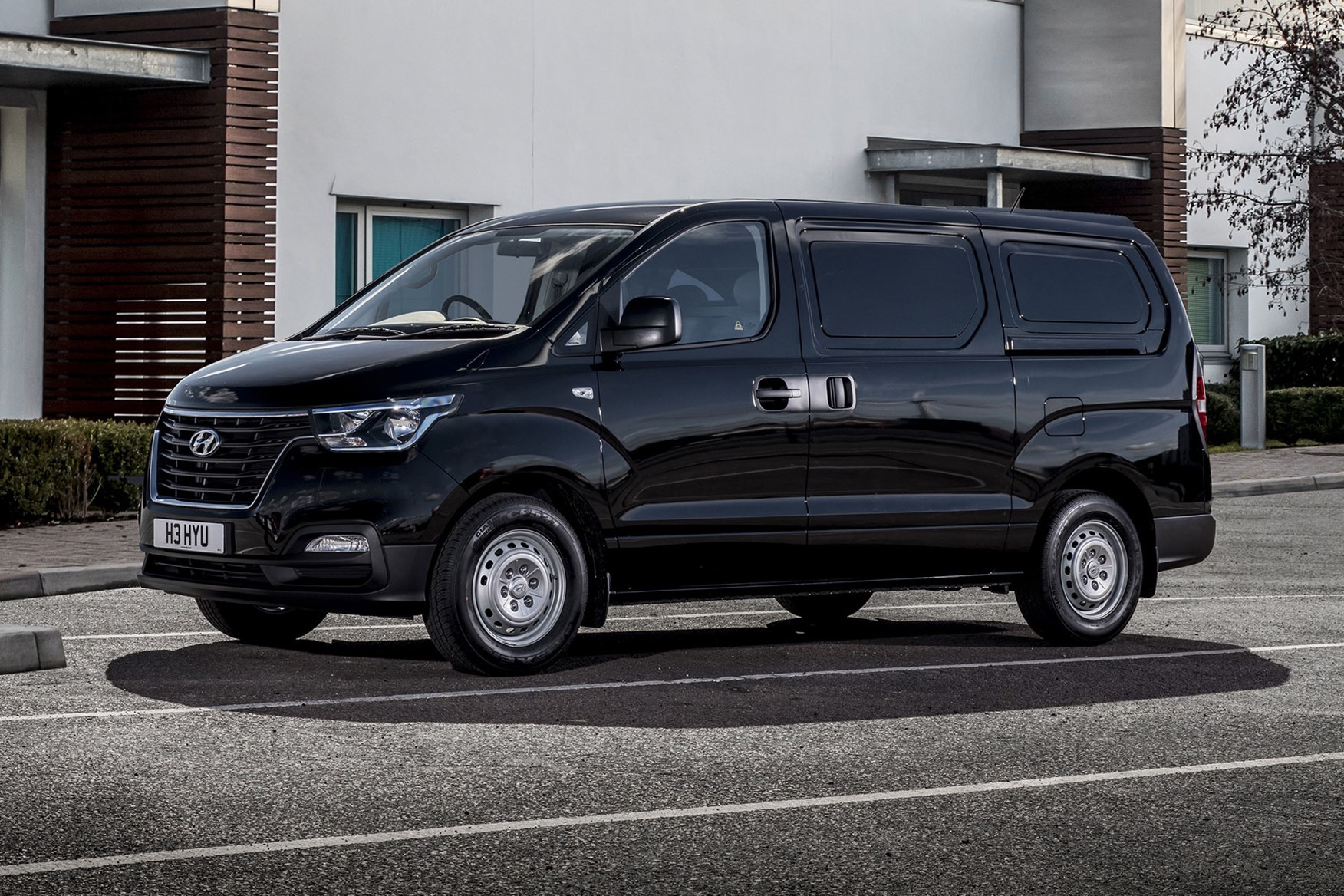 This wasn't enough to keep it on sale in the UK, however, and the firm stopped taking orders for the van in later 2019.
This leaves Hyundai without any commercial vehicles in the UK. The iLoad probably won't be missed.
Still want to know more? Then keep reading for the full Parkers review of the Hyundai iLoad
Skip to our full verdict on...
Unusually among mid-sized vans, the Hyundai iLoad is rear wheel drive.
This benefits traction when loaded – the weight helping to push the driven wheels into the tarmac, aiding grip – and also helps give it a modest turning circle, so you should find it's easy to drive around town.
The ride comfort is rather curious, though. While close to the top of the class when first introduced in 2009, nearly a decade later it seems out of touch – the iLoad tending to feel as if it's stumbling over lumps and bumps in the road, instead of neatly absorbing them.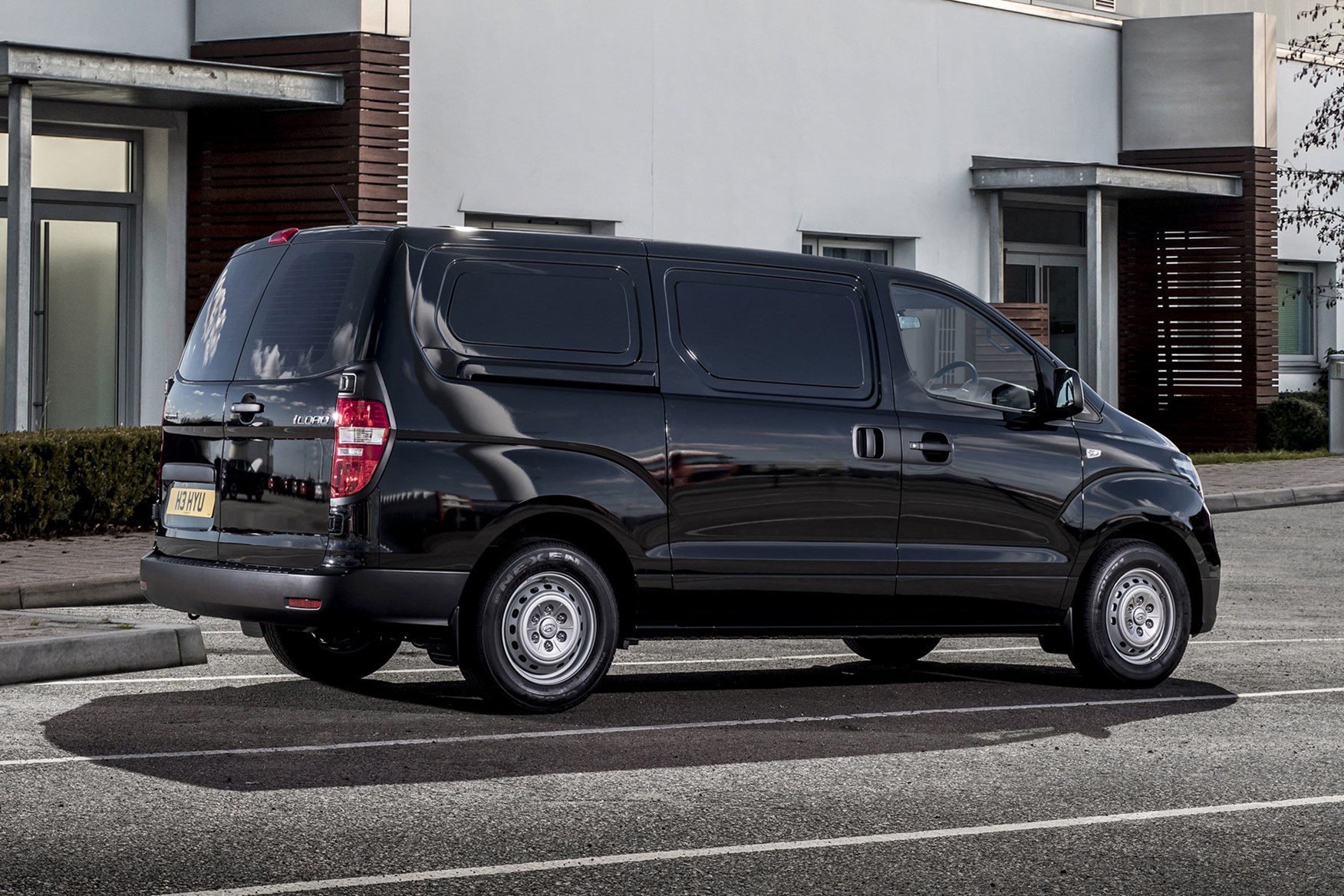 This makes it somewhat irritating as a long-distance companion, as it also seems to find more surface intrusions to trip over than more modern rivals.
Similarly, while the 116hp 2.5-litre turbodiesel engine initially feels quite strong, pulling keenly from low revs, it runs out of puff very quickly. We've no doubt the 343Nm of torque means it will happily haul its full payload, but don't expect it to do so especially rapidly.
The iLoad's relationship to the i800 is very clear in the cab. Unlike many other vans – even now – the Hyundai is fully trimmed throughout, including a carpeted floor, so there's no exposed metal.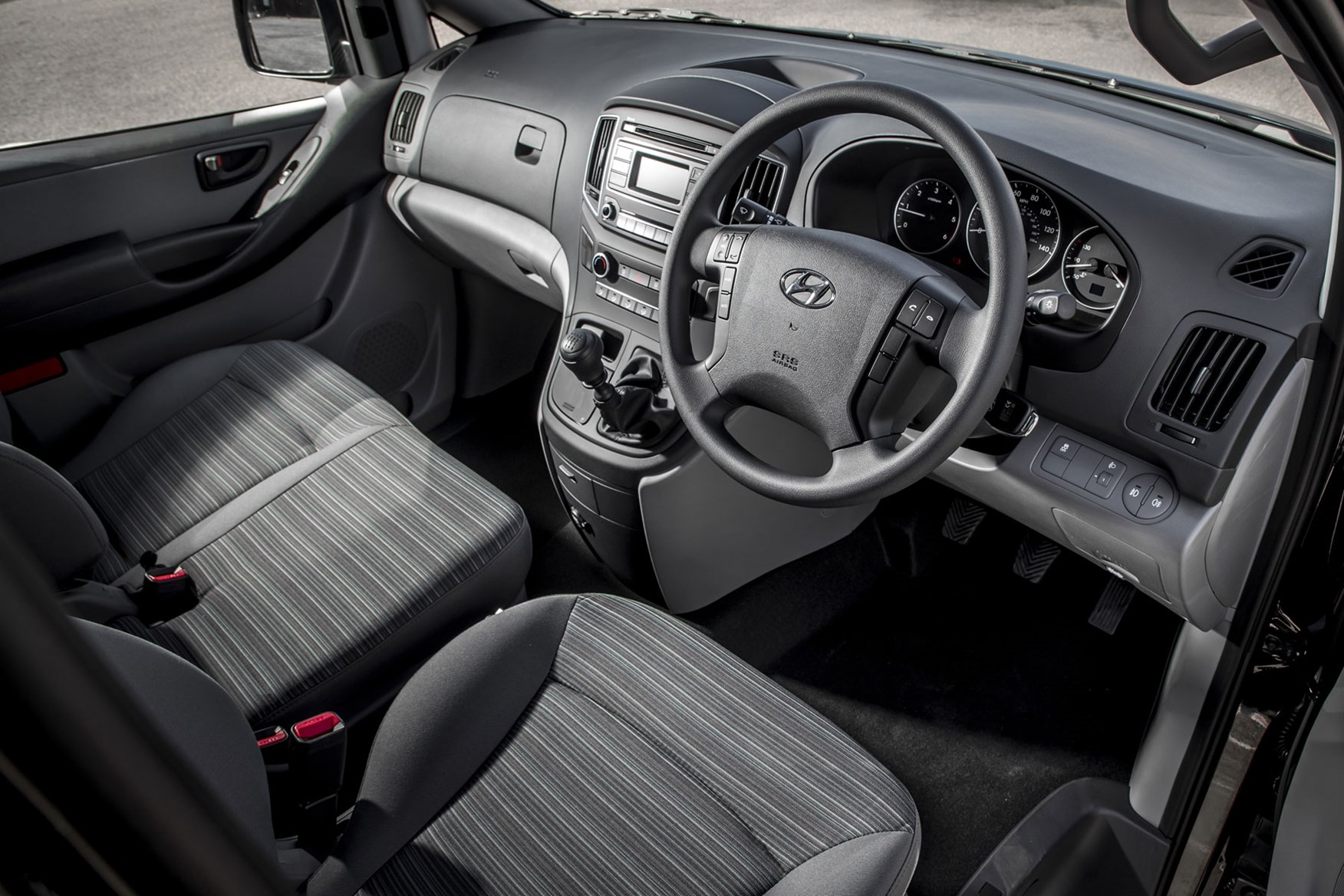 The upside is that this gives it a smart, comfortable feel. However, it also means that it may be difficult to keep clean. And while the dashboard looks rounded and modern, it lacks much in the way of storage, so it isn't especially practical.
The carpet does help with refinement, so there's not much road or engine noise when cruising at motorway speeds. But the engine is quite vocal under acceleration, especially when cold, so don't expect car-like silence at all times.
Hyundai iLoad standard equipment
The Euro 6 iLoad is only available in a single SE trim level. Standard equipment includes:
Air-conditioning
Electric windows
Electric, heated door mirrors
Height-adjustable driver's seat
Bluetooth
Twin sliding side doors
Driver and passenger airbags
Tyre pressure monitors
Remote locking and alarm
The options list is rather limited, though, relating almost entirely to glazing for the load area doors. There are no fitted sat-nav or other infotainment upgrades available here at all. So if you want a DAB radio you're out of luck.
Low asking prices make the iLoad look like great value on paper, and it has always been well equipped for the money as well.
However, the official fuel economy figure of 37.7mpg for the Euro 6 model (37.2mpg for Euro 5) is the worst of any medium van.
So the Hyundai won't be the cheapest of vans to run – even if it does manage to avoid requiring AdBlue (in contrast to the Euro 6 i800 people carrier, which uses more powerful engines and does require the exhaust additive).
Hyundai iLoad service intervals
Causing more cost issues, Hyundai has no dedicated van dealers or service centres, so you'll be forced to get maintenance carried out during regular working hours – not ideal for your own downtime.
Especially when the service intervals are set at just 10,000 miles, or every 12 months, whichever comes sooner. Based on typical van mileage, this means you'll likely be heading for a service at least twice a year.
Hyundai iLoad warranty
While the five-year, 100,000-mile warranty offers good peace of mind, there are much newer equivalent vans from Nissan and Toyota that can give you the same level of reassurance combined with better fuel economy and payload capacity.
>> Nissan NV300 vs Toyota Proace twin-test – battle of the five-year warranties
Hyundai's five-year / 100,000-mile warranty shows the level of faith the company has in its own engineering, and indeed we can find little evidence of any reliability horror stories – involving either the iLoad van or the very similar i800 people carrier.
If reading this as a potential used buyer, be sure to check the service history thoroughly, however.
The iLoad has always put safety high up its list of priorities – it was fitted with two airbags from launch, for example, even if electronic stability control (ESC) was a £450 option. ESC was later made standard on all models.
Still, Euro NCAP only rated the i800 people carrier (tested under its European name, Hyundai H-1) a three-star vehicle in its independent crash testing – and that was back in 2012. The testing process is much harsher now, so you should fully expect more modern rivals with the same star rating to perform better in an accident.
All iLoads come with remote central locking and an alarm. But as ever, we'd advise not leaving valuable tools in any van overnight, and upgrading the standard security wherever possible.
Which Hyundai iLoad (09-19) is best for me?