Nissan NV300 review (2021)
Five-year warranty and plenty of practicality
PROS
Five-year warranty
Smooth, efficient engines
DCT automatic gearbox very good
Comfy, car-like driving experience
Lengthy load area
CONS
Cab could be more practical
Rivals have higher payload
Lacks latest safety aids
Basic 1.6 engines a bit slow
Limited van dealer support
Summary
This 2021 Nissan NV300 review covers the medium van that Nissan launched in 2016 as a rival to the Ford Transit Custom and Volkswagen Transporter.
Based on the Renault Trafic, it offers good value, a large load area and an agreeable driving experience. But lags behind the best rivals for payload. Last refreshed in 2019, an eyecatching facelift is planned for 2021.
2021 Nissan NV300 facelift
This can already be seen on the 2021 Nissan NV300 Combi, the passenger-carrying version, and will come with changes to the engines that improve performance and meet the latest Euro 6D Temp emissions standards.
There are also some safety equipment upgrades, including a new design of airbag, and a completely revised dashboard. Exactly when the panel van facelift will reach the UK, however, is still to be confirmed.
What is the Nissan NV300?
Nissan took a break from the medium-sized van sector in 2014 when the Primastar ceased production, but returned in 2016 with this, the NV300.
Described at the time as the final piece in the Nissan light commercial vehicle puzzle, it sits between the smaller NV200 (now replaced by the NV250) and the larger NV400. Nissan also sells a pickup, the Navara (sometimes known as the NP300).
The NV300 received a substantial update in 2019, gaining new engines, an automatic gearbox option and some minor styling changes. We've incorporated details of these revisions in this review.
What is the NV300 based on?
Nissan did not suddenly conjure up its own brand new mid-size van with this model; the NV300 is based on the Renault Trafic, which means it's the same van as the Fiat Talento and the previous-generation Vauxhall Vivaro, and is built by Renault at its factory in Sandouville, France.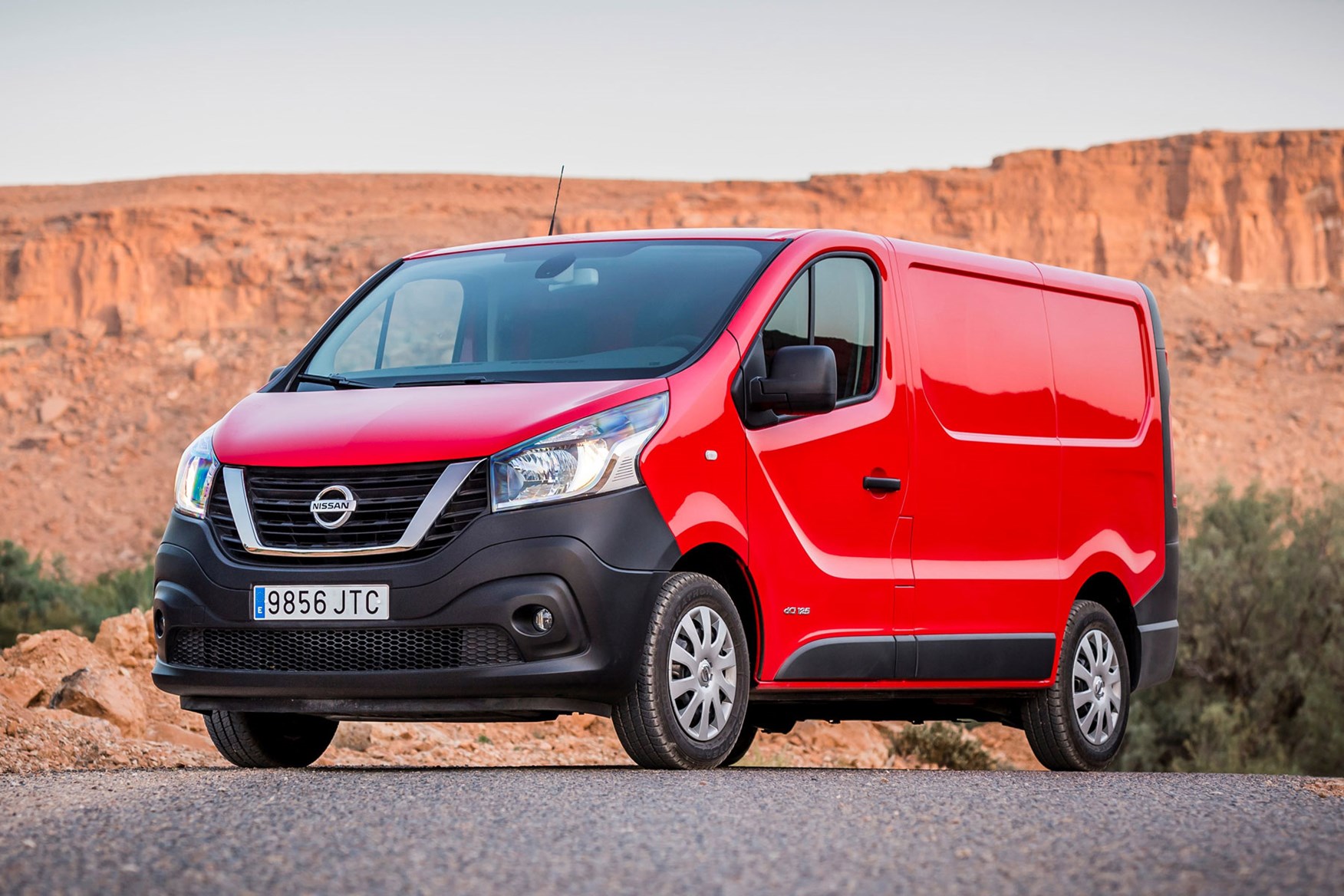 Rivals include the Peugeot Expert, Citroen Dispatch and Toyota Proace trio, but also the bestselling Ford Transit Custom and ever-popular Volkswagen Transporter.
Nissan shares more than just a factory with Renault
While Nissan has its own bold nose grafted on the front – it was designed at Nissan's London design office like the latest Qashqai crossover – everywhere else you'd be forgiven for thinking you're in the Renault Trafic.
Inside, everything is lifted straight from its French contemporary – the steering wheel, dials, window switches, air-con controls and infotainment system are pure Renault.
That's not necessarily a bad thing though, because it's all user-friendly and makes the NV300 feel that little bit more car-like on the inside.
Engines and body sizes
At launch in 2016 there were four 1.6-litre dCi turbodiesel engines available in the NV300, shared with the equivalent Renault, Fiat and Vauxhall vans and related to similar motors found in the Nissan passenger car range.
In November 2019, all but the entry-level 95hp 1.6 were dropped in favour of new 2.0-litre dCi turbodiesel engines. These not only meet the tougher new emissions regulations, they also offer up to 170hp, a chunky increase over the previous 145hp max.
The 95hp 1.6 has also now been dropped, leaving only the choice of 120hp, 145hp and 170hp 2.0-litre motors.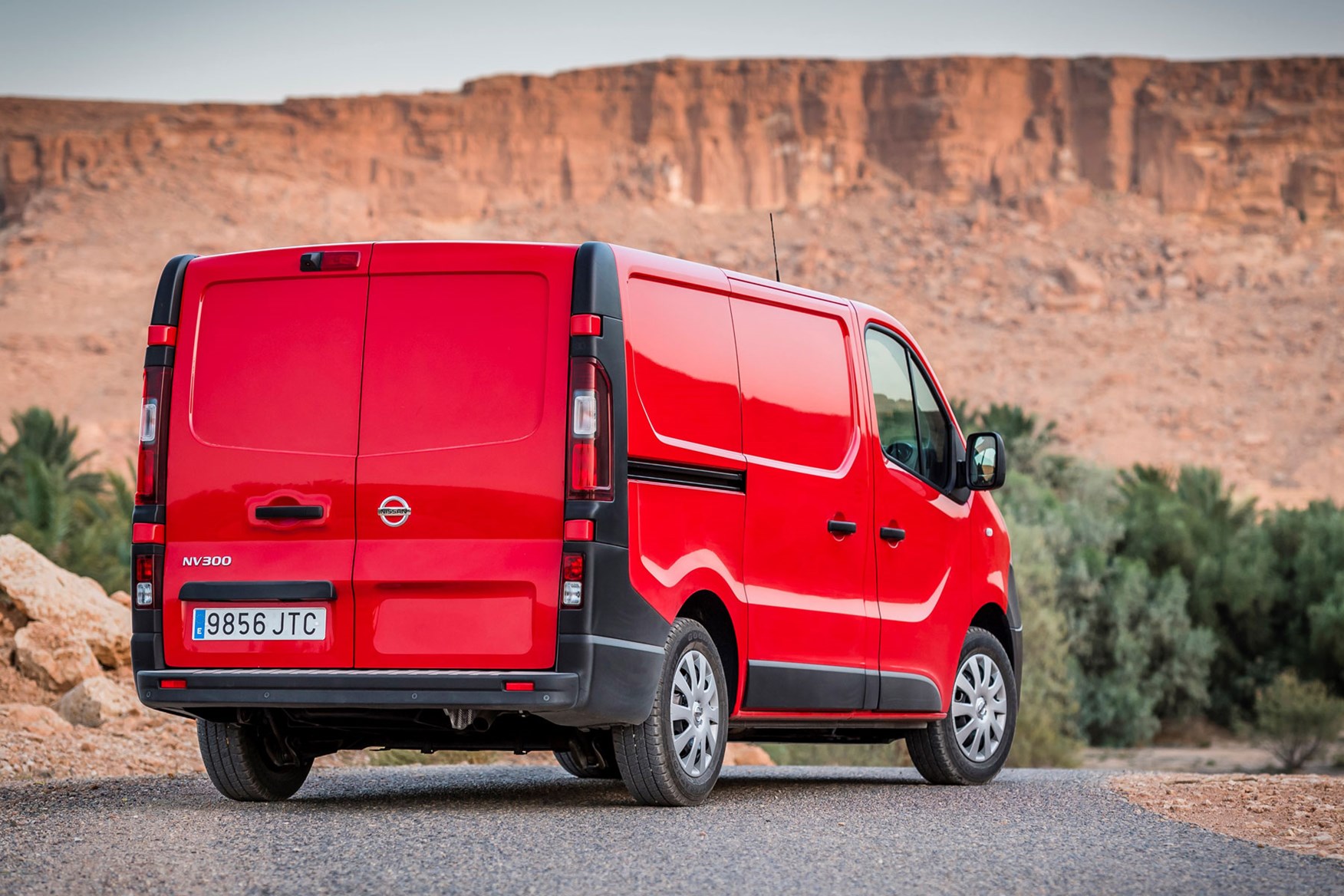 The NV300 comes in a variety of sizes too. There's the standard version (L1H1), standard wheelbase with high roof (L1H2), long-wheelbase with standard roof (L2H1) and long-wheelbase with high roof (L2H2).
There's also a six-seater crew van, nine-seater NV300 Combi (available in standard and long-wheelbase form) and a platform cab for bespoke commercial vehicles. A variety of door combinations are available, too.
Competitive running costs and five-year warranty
Helping the NV300 stand out against its rivals - including the ones that are basically the same van - it comes with a five-year, 100,000-mile warranty.
Only the Toyota Proace boasts the same in the medium van segment.
Add to this some excellent claimed fuel economy figures, and if you're looking for a van you want to keep for while, this Nissan is worth a closer look.
---

Nissan NV300 verdict
The NV300 does a good all-round job if you're an undemanding van operator. These drive well, are comfortable and have large load areas. And they come with that five-year warranty.
However, they don't compete on payload terms with the heaviest-hauling competitors, Nissan doesn't have a dedicated LCV dealer network and they lack even the option for some modern safety aids - including autonomous emergency braking.
Skip to our full verdict on...
All engines are smooth and responsive
Newer 2.0-litre models have more power but may prove noisier
NV300 steers well and copes with bumpy roads nicely
Looking for a comfortable, car-like driving experience from your van? The NV300 could be the one for you - these are good vans to drive, with plenty of power and refinement.
Nissan NV300 1.6-litre engines
There were four 1.6-litre dCi turbodiesel engines to choose from in the NV300 from when it was first introduced in 2016 until November 2019, when the 2.0-litre engine became available:
95hp with 260Nm of torque (single turbo)
120hp with 300Nm of torque (single turbo)
125hp with 320Nm of torque (twin-turbo)
145hp with 340Nm of torque (twin-turbo)
We've a lot of experience with these engines across all the vans (and cars) they're fitted in and you shouldn't be put off by their size. Though we'd always recommend going for a twin-turbo version if you can, even the least powerful variants will cope with light-duty work if you're patient.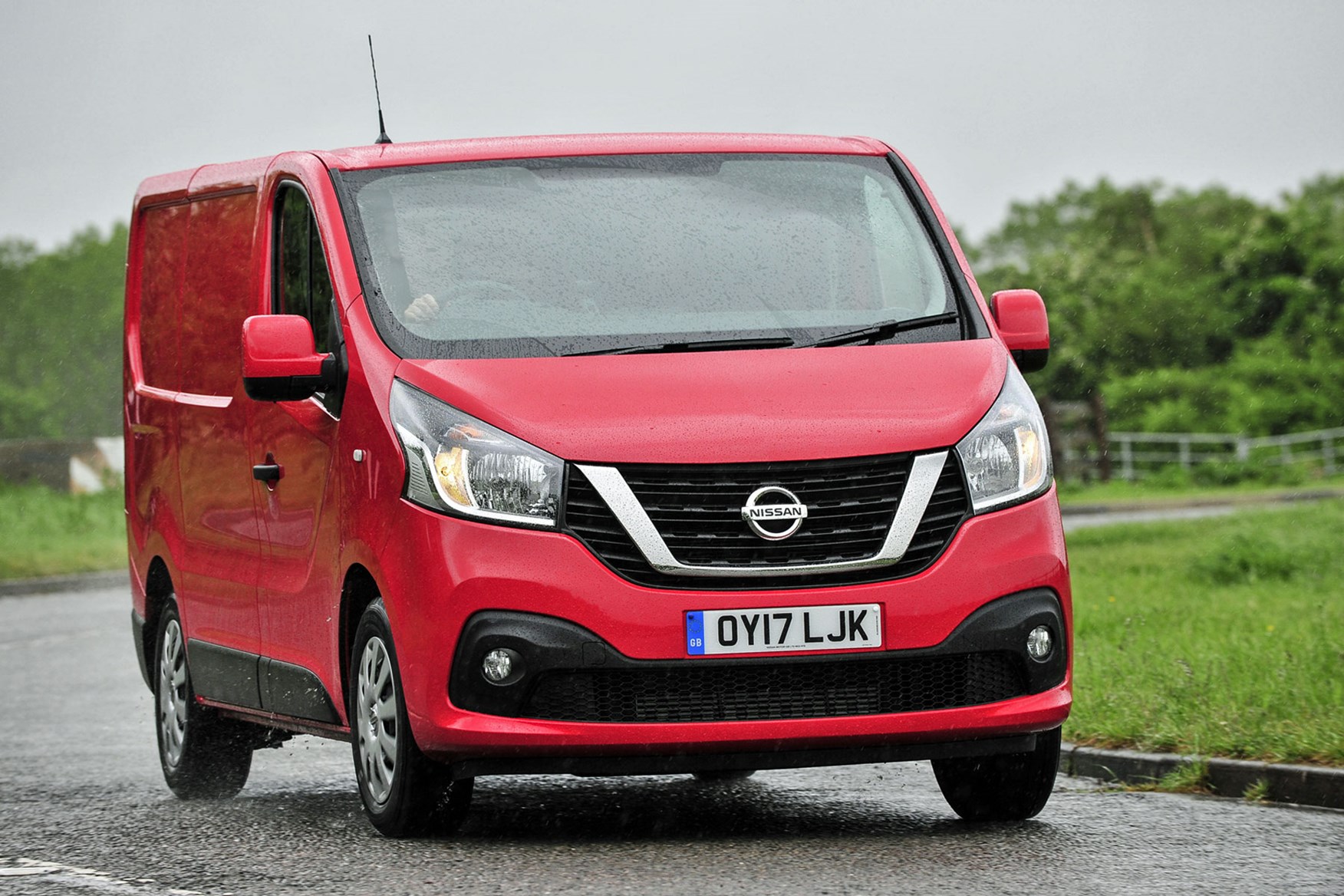 Smooth and refined on the move, they help the NV300 feel car-like at high speeds. Being small, these engines are also light, which means the vans they're fitted to change direction keenly and tend to ride bumps very well.
The steering is well-weighted, if a little lifeless, but the NV300 is very easy to control at both high speeds and when manoeuvring, helped by great visibility thanks to large side mirrors and a large area of glass.
All NV300s are fitted with a six-speed manual gearbox as standard. This is precise enough, but has quite a long throw. It's easy to use though and the NV300 does seem much more like a large MPV than cumbersome commercial vehicle to drive overall.
Nissan NV300 2.0-litre engines
In November 2019, Nissan switched to a new range of 2.0-litre dCi turbodiesel engines. These are bigger but cleaner, and bring a useful bump in torque and range-topping performance:
120hp with 320Nm of torque

145hp with 350Nm of torque

170hp with 380Nm of torque
Again, a six-speed manual gearbox is fitted as standard, but new for this engine is the option of a six-speed DCT automatic gearbox on the 145hp and 170hp variants.
We're yet to drive the new 2.0-litre motors in the NV300 as Nissan doesn't maintain much of a van press test fleet, but have sampled them in the technically identical Renault Trafic and Fiat Talento, and we're pleased to report they continue to provide excellent motivation in these vans.
Particularly sensitive drivers may notice the additional nose weight when driving quickly on a twisty road, and they perhaps aren't quite as refined as the extremely well-developed 1.6-litre units. But now equipped with variable geometry turbochargers, they do offer great response and plenty of performance.
The 145hp and auto gearbox combination is a particularly good choice - the 170hp is faster, but we'd choose to pay for the automatic instead of the extra horsepower if it's an either/or situation. A dual-clutch design similar to Volkswagen's DSG, this is quick to react yet smooth with its gear changes.
Stylish interior with surprising amout of storage
Generally feels well built
Modest upgrades for 2019
Like the Renault Trafic, the Nissan NV300 feels more like a people carrier inside than a full-on van, thanks to details you'll find in several Renault cars.
The dials look like they're lifted straight from a Clio supermini, while the touchscreen infotainment system available higher up the range is slick to use and makes it seem very car-like - something that's improved still further from November 2019, as the latest systems are intended to be as easy to use as a smartphone.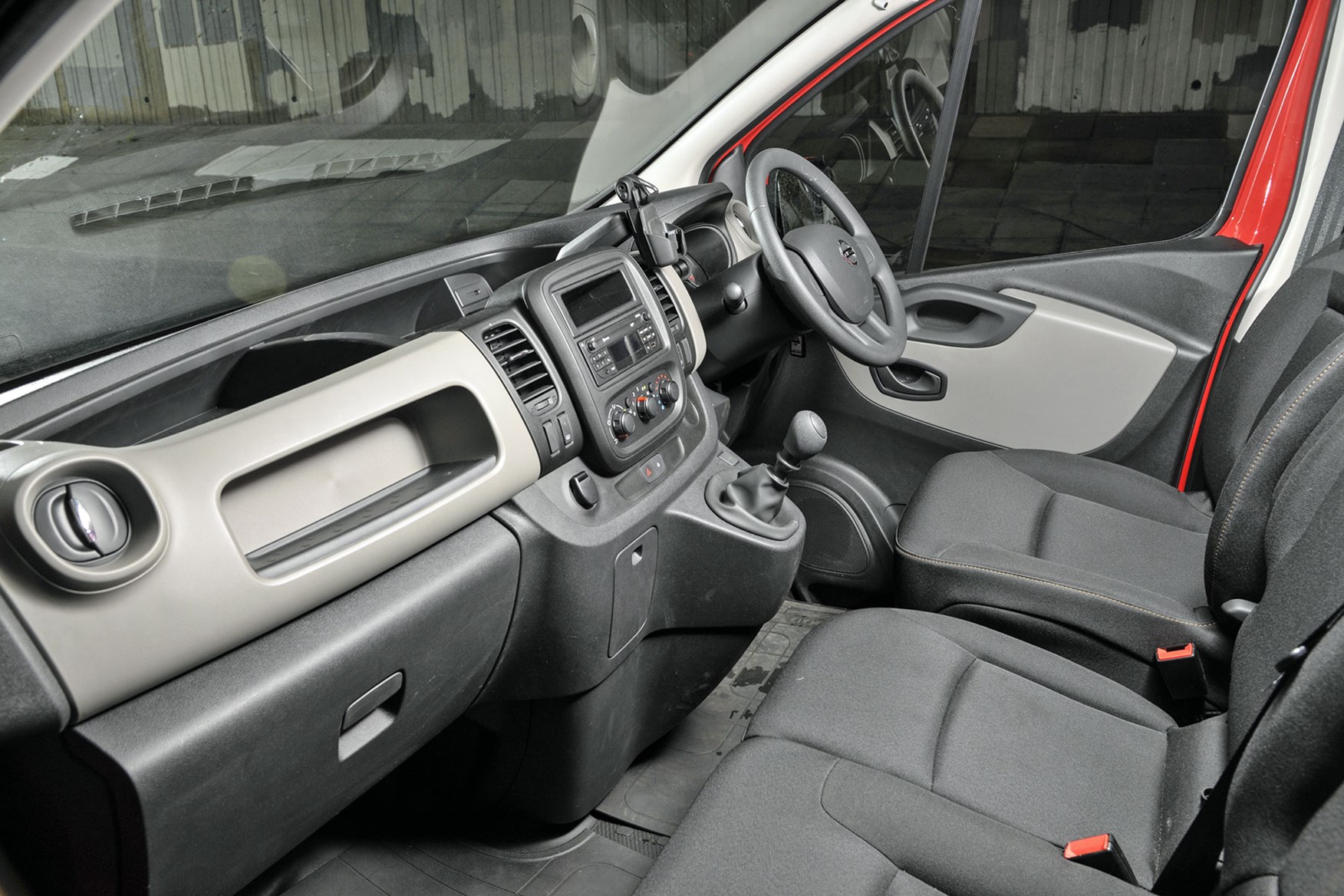 While the plastics appear largely hard-wearing, the panel ahead of the passenger where the airbag is feels very flimsy indeed – it's soft to the point of being able to push it in a good couple of centimetres.
Is the NV300 comfortable?
It's very easy to find a comfortable driving position thanks to plenty of adjustment in the seat and steering wheel.
There's also a claimed 89 litres of storage space inside the cab - some of it more useful than others. The fold-down cupholder, for example, is very shallow, which means most drinks are likely to fall out if you take a corner even a little bit enthusiastically.
There's a handy tray area on top of the dashboard, though, and the dash-top cubby is a good size too.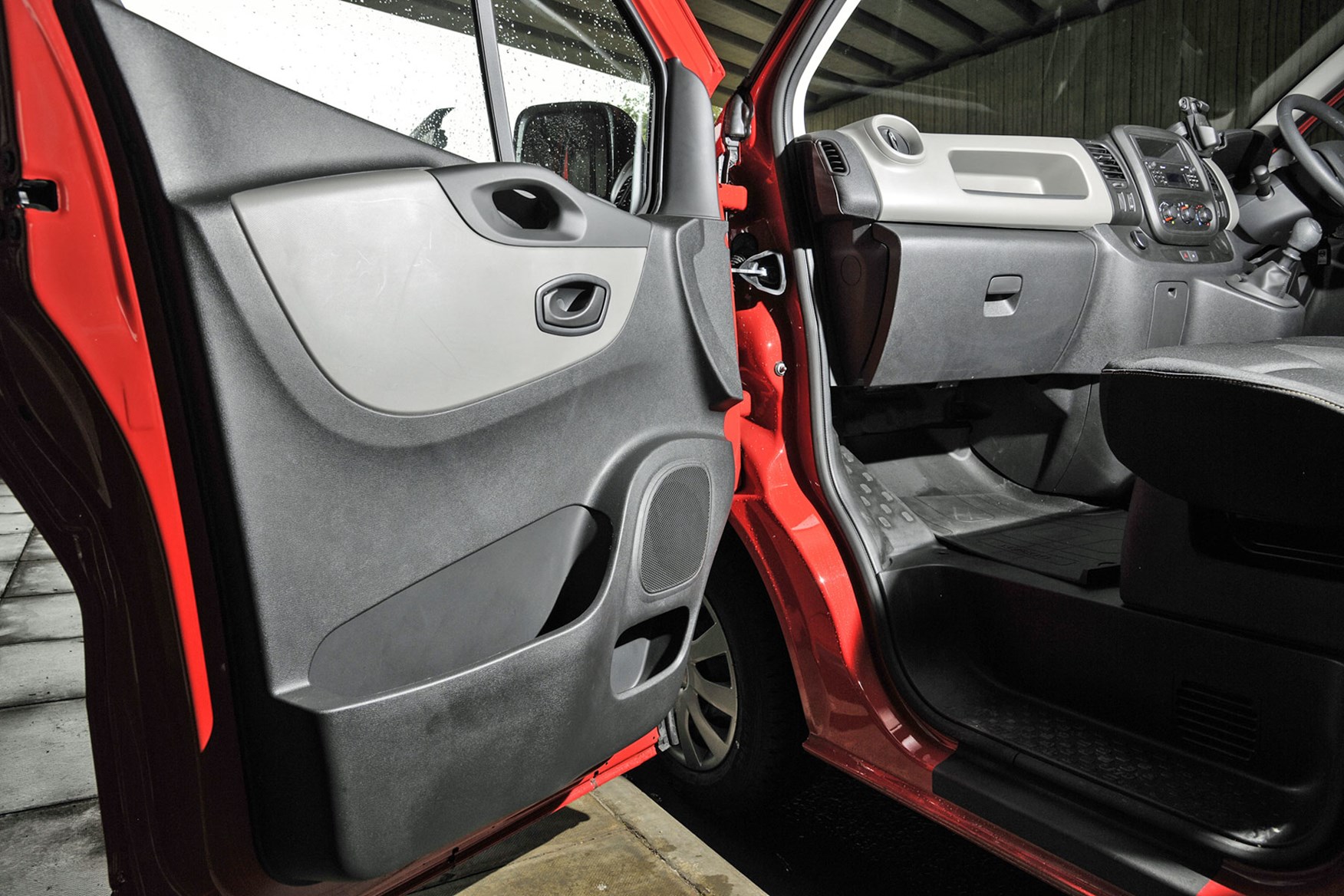 Nissan is aiming to appeal to modern buyers with the NV300, so there are plenty of options available to turn it into a mobile office.
That means there are various cradles available for smartphones and tablets, laptop storage and a delivery note holder. There's even a removable clipboard holder attached to the back of the centre seatback that can be adjusted into various positions when the centre seat is folded down.
Interior upgrades for 2019
There are no major design changes for the November 2019 model update, but NV300s from this point on benefit from black (rather than grey) dashboard plastics, new seat fabric and satin chrome detailing.
The touchscreen infotainment systems now not only boast new software, they also offer Android Auto and Apple CarPlay connectivity.
Good on fuel
Five-year warranty
25,000-mile service intervals
Nissan claimed class-leading running costs at launch, with highlights including a five-year warranty and five years' roadside assistance as part of the price. On-paper fuel economy is competitive, too, though the latest PSA Group vans (Dispatch / Expert / Vivaro / Proace) now lead in this area.
Nissan NV300 mpg
In terms of fuel economy, the NV300s with the 1.6-litre engines returns between 43.5 and 48.0mpg on paper, with the 125hp model best of the lot. However, these figures were all produced using the old NEDC testing method, which has now been replaced by a tougher WLTP standard, making them difficult to compare directly with the latest rivals - including 2.0-litre versions of the NV300.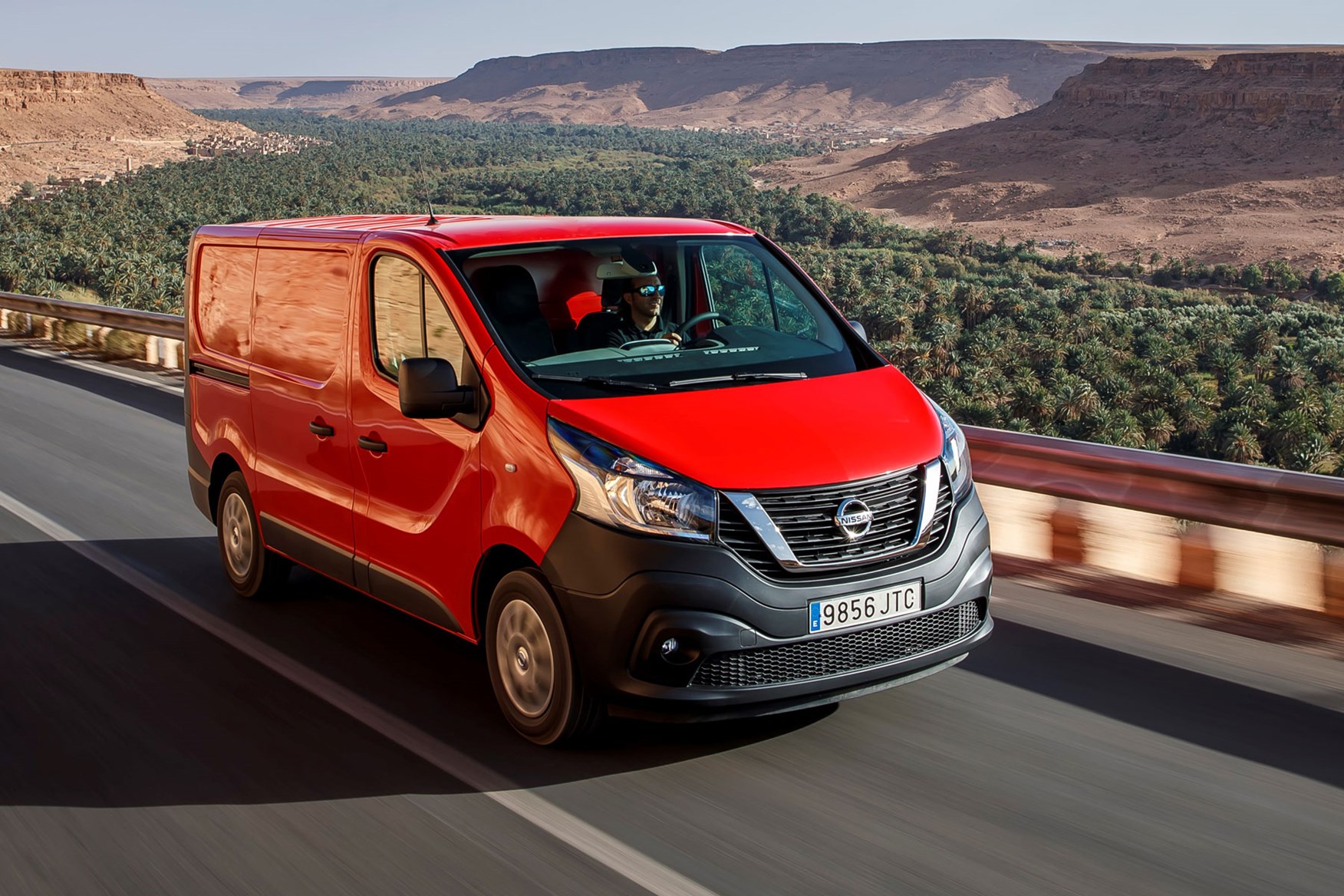 Official fuel economy figures for these aren't out at the time of writing (November 2019), but based on the Renault Trafic with the same engines it's looking like the maximum claimed economy will now exceed 50mpg (but that is based on NEDC figures 'back-translated' from WLTP; we know - we wish the manufacturers would stop mucking about like this as well).
We'll update this page with more info once we have it.
Regardless of year, all NV300s use AdBlue to reduce exhaust emissions, so you'll need to factor this into your running costs.
Nissan NV300 service intervals
The NV300 requires a service every 25,000 miles or two years, whichever comes first.
Nissan NV300 warranty
The NV300 is covered by a five-year, 100,000-mile warranty - one of only three medium vans to offer this.
Nissan's warranty is fully transferable between owners, which should help keep second-hand values up when selling at three years' old.
Nissan NV300 trim levels
There are three: Visia, Acenta and Tekna.
The Nissan NV300 uses engines and technology that have been tried and tested in the Renault Trafic.
The Renault has been subject to a few recalls, but the lengthy five-year warranty indicates a promising degree of confidence from Nissan that build quality is up to scratch.
Everything inside feels like it should stand up to a tough life too, apart from that piece of trim where the passenger airbag is, so it's unlikely bits of it will be falling apart after a short while.
Autonomous emergency braking not even optional
No advanced connectivity for added security
Sharing more than just engines and an interior with Renault means the Nissan NV300 is has a reasonable amount of standard safety equipment.
Though it is a shame that even the revised version isn't avaialble with autonomous emergency braking (AEB).
Nissan NV300 safety
All models come with at least a driver's airbag, hill-start assist and load-sensitive electronic stability control.
There's also an Extended Grip traction control system designed to help the van find maximum grip on slippery surfaces - handy for construction site work and similar - plus a low-tech but clever blindspot mirror in the passenger sun visor.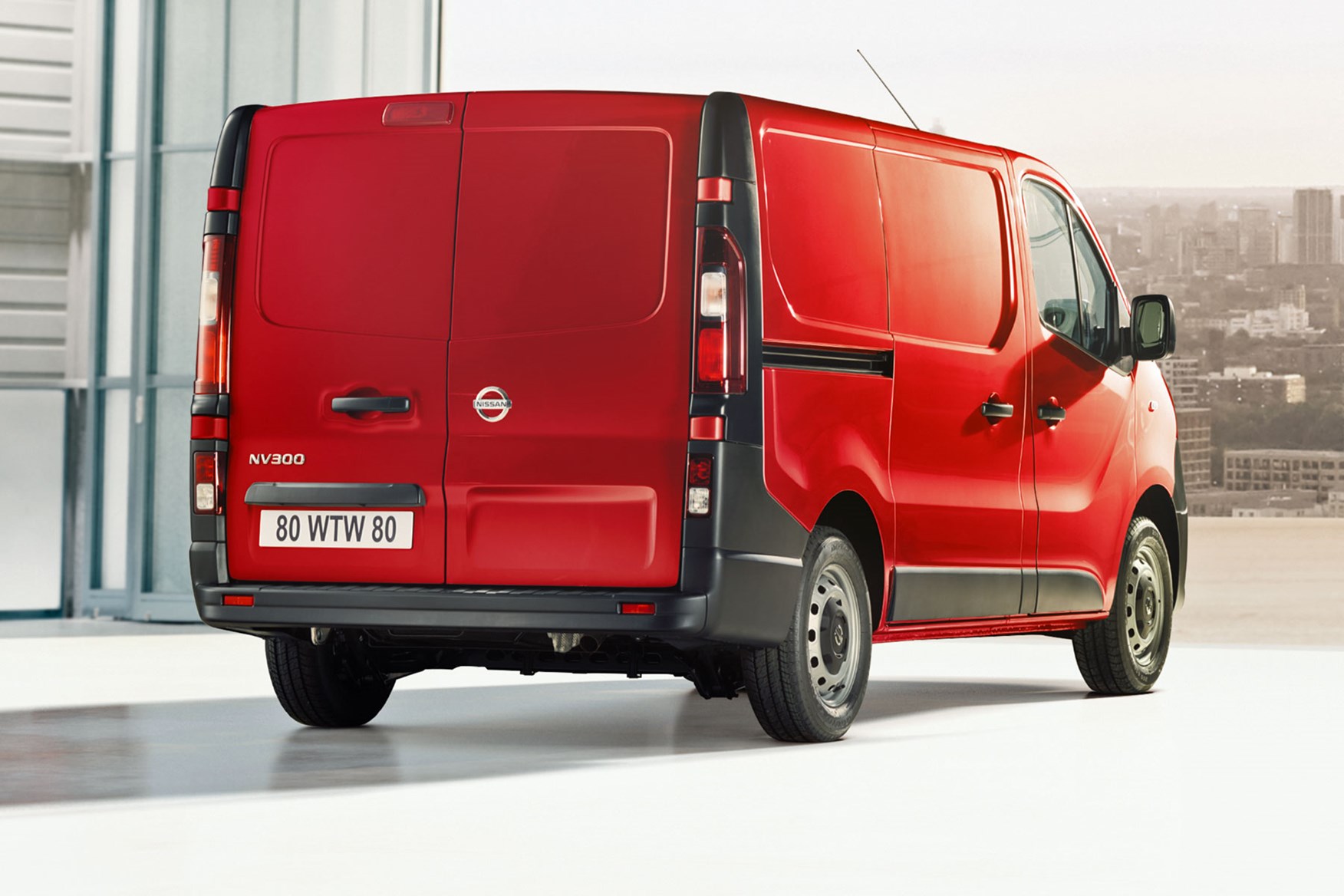 Useful extras including automatic lights and wipers, parking sensors, a reversing camera and trailer sway control.
Nissan NV300 security
All models get an immobilser as standard, but you'll have to pay extra for an alarm.
The locking system allows singel-door unlocking, however, and every van comes equipped with 'superlocks'. These won't stop someone with cutting equipment but may slow down opportunist thieves.
The NV300 and its extended family are starting to get left behind by rivals that now offer increased connectivity, however; there is no smatphone app to check your van is where you left it available from Nissan.
Which Nissan NV300 is best for me?
You can probably make your own judgement when is comes to size (check out dedicated Nissan NV300 Dimensions page for more info), but in terms of engine and trim level we may be able to give you some guidance.
The sub-100hp models will be probably be cheap to insure (our partner Mustard.co.uk can help you here) but not necessarily cheap to run; the reduced performance likelt means the engines will be worked harder unless you're a saint, ruining the fuel economy.
You'll also find the lesser single-turbo 1.6-litre vans don't get stop-start as standard, either.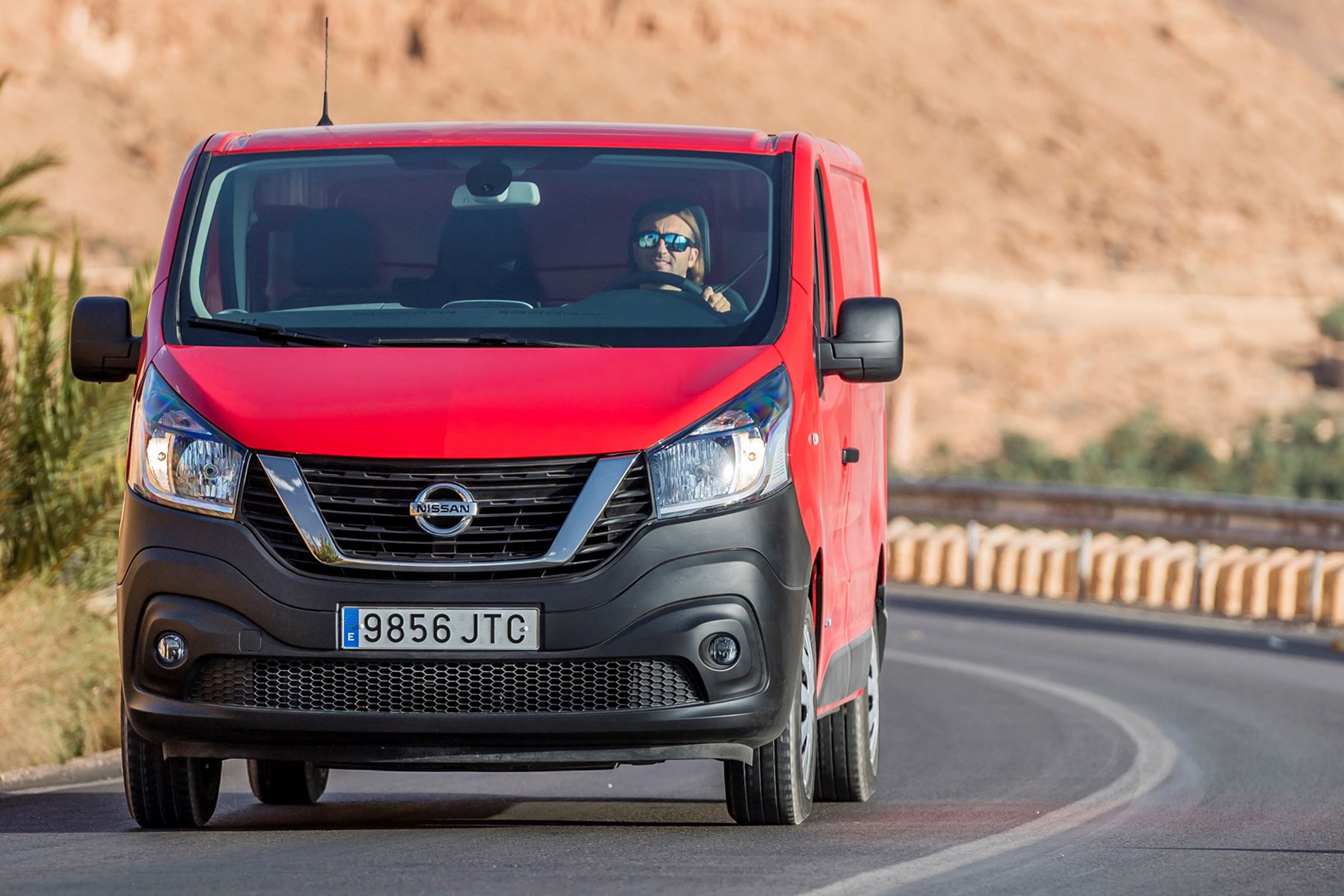 As such, we'd suggest either a twin-turbo 1.6 - the 125hp versions is plenty for most applications and typically the bestseller, so you should find more used examples if shopping second-hand - or one of the newer 2.0-litre engines.
Our favourite 2.0-litre spec is the 145hp engine with the DCT automatic transmission; the 170hp is nice, but a luxury most buyers probably won't need.
As for trim levels, entry-level Visia covers the basics well, but you'll need to go to Acenta to get air-conditioning as standard. Tekna adds aloy wheels and cruise control, which are nice features to have, too.