Renault Kangoo van review (2021)
Impressive electric version is the pick of the range
PROS
Mixture of variants
Good standard equipment
Roomy for passengers
Large load area on Maxi
Quiet and clean electric versions
CONS
Rivals offer greater payload
Can be noisy inside
Bland cab design
Lacks latest safety kit
EDC auto thirsty
Summary
The Renault Kangoo is a long-standing competitor in the small van segment. This second-generation version went on sale in 2008, replacing a model that was first introduced back in 1998 – so it has a well-established pedigree, and Renault is clearly confident the Kangoo formula works, given how long it takes the French firm to get around to replacing it.
This one's time is just about done, though, as an all-new Renault Kangoo is set to go on sale in 2021. Does the version reviewed here still make any sense at all versus much more modern competitors? Keep reading our Renault Kangoo review to find out...
Renault Kangoo van rivals
Competition in this area of the light commercial vehicle (LCV) market is tough. While this Kangoo has been exceedingly popular across Europe as a whole during its lifetime, small van sales in the UK are traditionally dominated by the Ford Transit Connect and the one-two punch of the Citroen Berlingo / Peugeot Partner twins.
The two rival French vans are the very newest in the sector, and now count the increasingly popular Vauxhall Combo Cargo as part of their family, too, as well as the Toyota Proace City. They offers exceptional good payload ratings, impressive fuel economy and lots of the latest technology - a tough act to beat and winners of the 2020 and 2021 Parkers Small Van of the Year Award.
You can see that the Kangoo already has its work cut out. And that's before you consider the brand new Volkswagen Caddy.
But with both the Mercedes-Benz Citan and the Nissan NV250 based on this Kangoo, it seems the Renault still has things to offer if you're simply after a straightforward load carrying solution in a small package.
Renault Kangoo van model range and features
Renault offers a standard and a longer Maxi bodystyle, and both regular panel van and crew van configurations – the latter including a second row of seats for carrying more personnel.
Full details of dimensions and load space size can be found on our dedicated Renault Kangoo van dimensions page.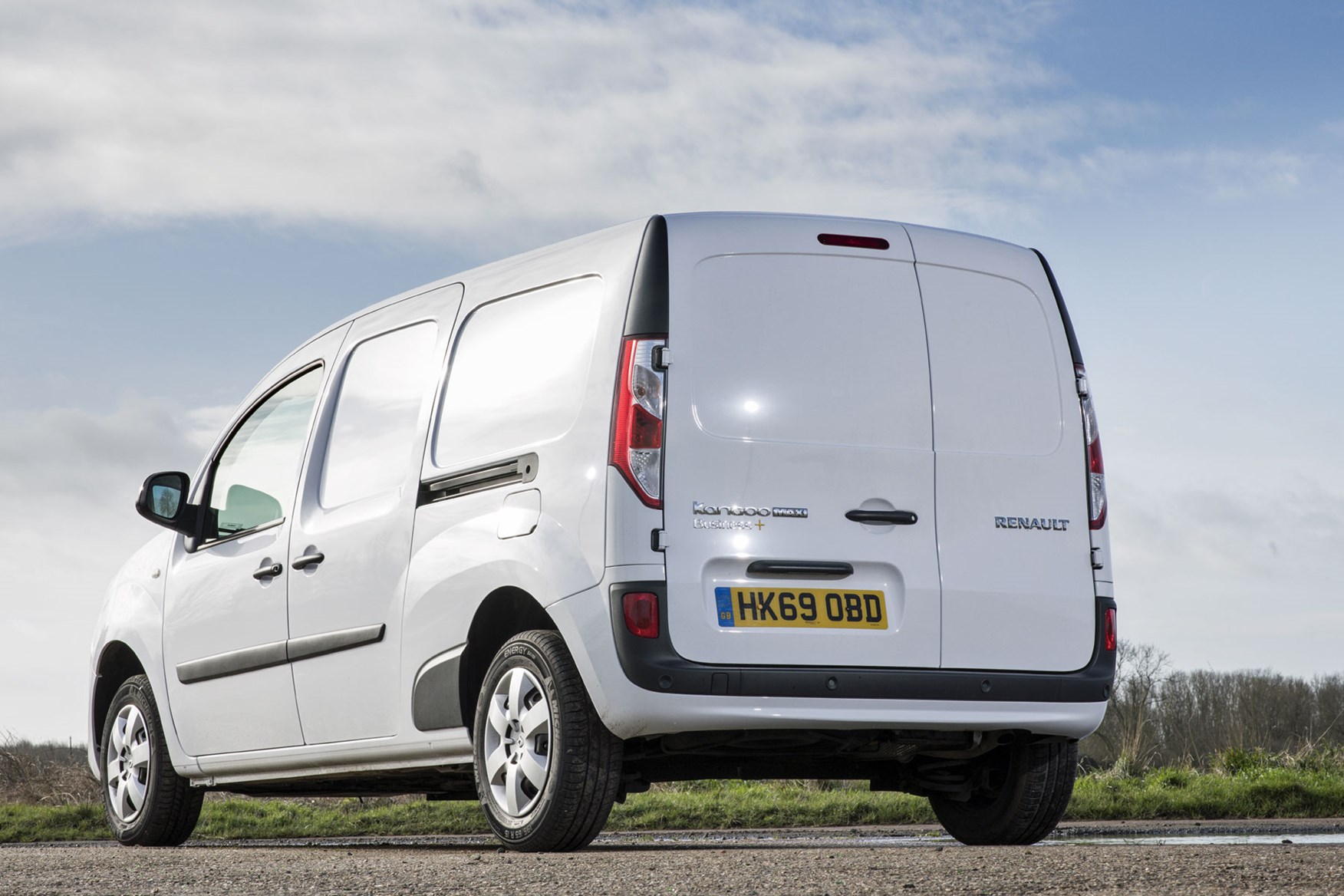 A super-short Kangoo Compact model was also available originally, but this was dropped over time due to lack of customer interest.
This neatness of purpose is reinforced by a selection of clever load-managing features – for instance, the Kangoo is available with a multi-position bulkhead, a swivelling bulkhead and even a load-through hatch in the roof (although again the last is no longer listed in the UK pricelist).
Continuing this theme of versatility, in addition to the expected turbodiesel engines, the Kangoo has also been available as an electric van since 2011 – in fact, it was the first production electric van.
Read our separate Renault Kangoo ZE review for full details.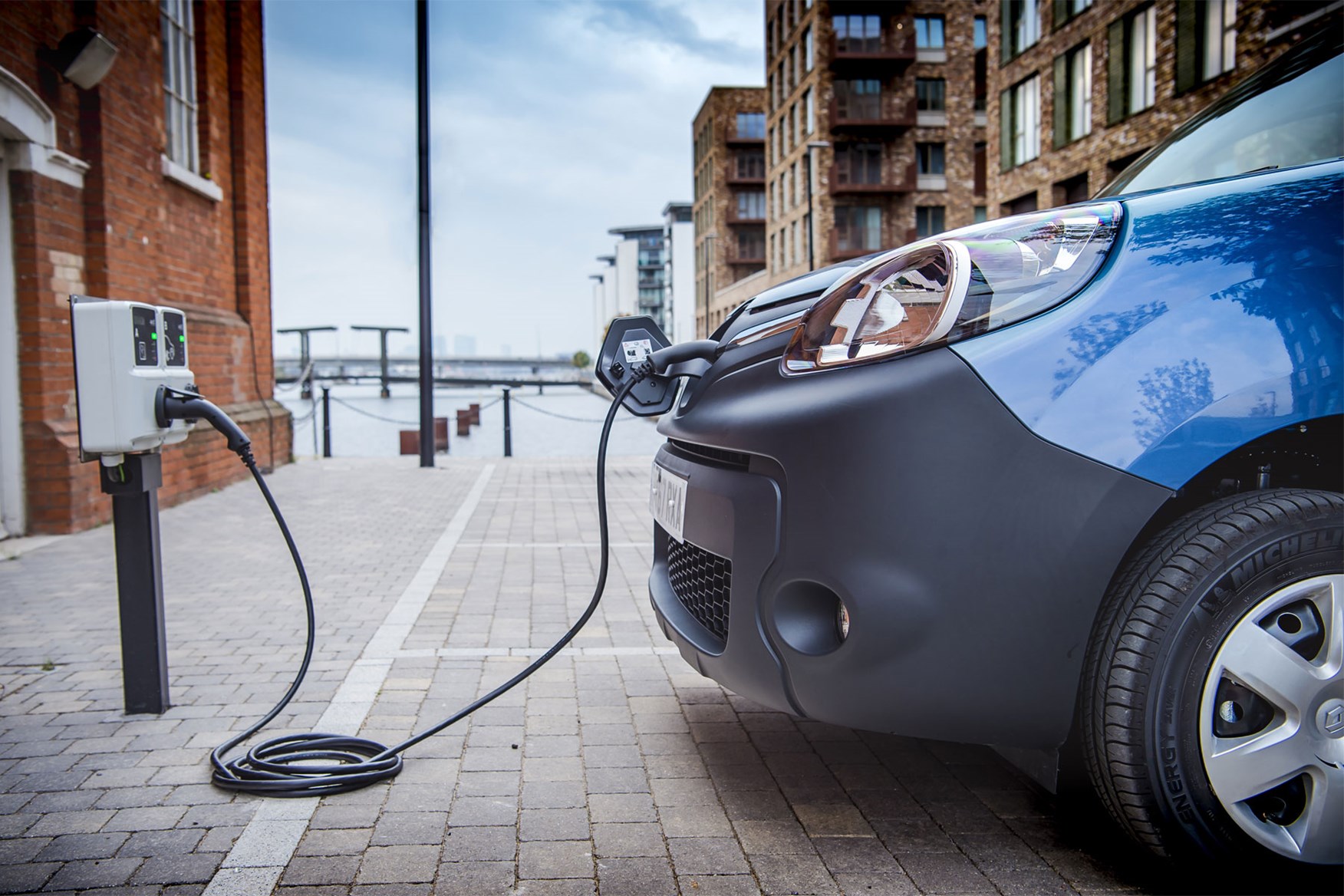 What's more, the Kangoo has been used for a wide range of conversions, and is available with an extensive selection of accessories.
Renault has even been experimenting with a version of the Kangoo ZE powered by a hydrogen fuel cell, but you aren't yet be able to order one of these at a UK Renault Pro+ dealership.
---

Renault Kangoo van verdict
For all that it is versatile, the ageing Renault Kangoo struggles against newer rivals that offer better fuel economy, payload and load capacity, harming both its running costs and its practicality.
And though it fights back with good value, it's hard to escape the conclusion that there are better small van choices. The new version can't come soon enough.
Skip to our full verdict on...
Long-serving 1.5-litre diesel engines offer good performance
Can be noisy, not the most sophisticated driving experience
Electric Kangoo ZE is well worth considering
At its original launch back in 2008, the Kangoo was available with a choice of petrol and diesel engines, while the all-electric ZE model was introduced in 2011.
The petrol engines, which as non-turbo units typically felt under-powered and out of their depth in a van, were phased out over time, leaving a choice of three turbodiesels, all based around Renault's long-serving 1.5-litre dCi engine.
Renault Kangoo van engines and gearboxes
Initially, diesel power output was rated at 70hp, 90hp and 105hp; with the upgrade to Euro 6 emissions compliance in 2015, the top and bottom choices received a 5hp boost.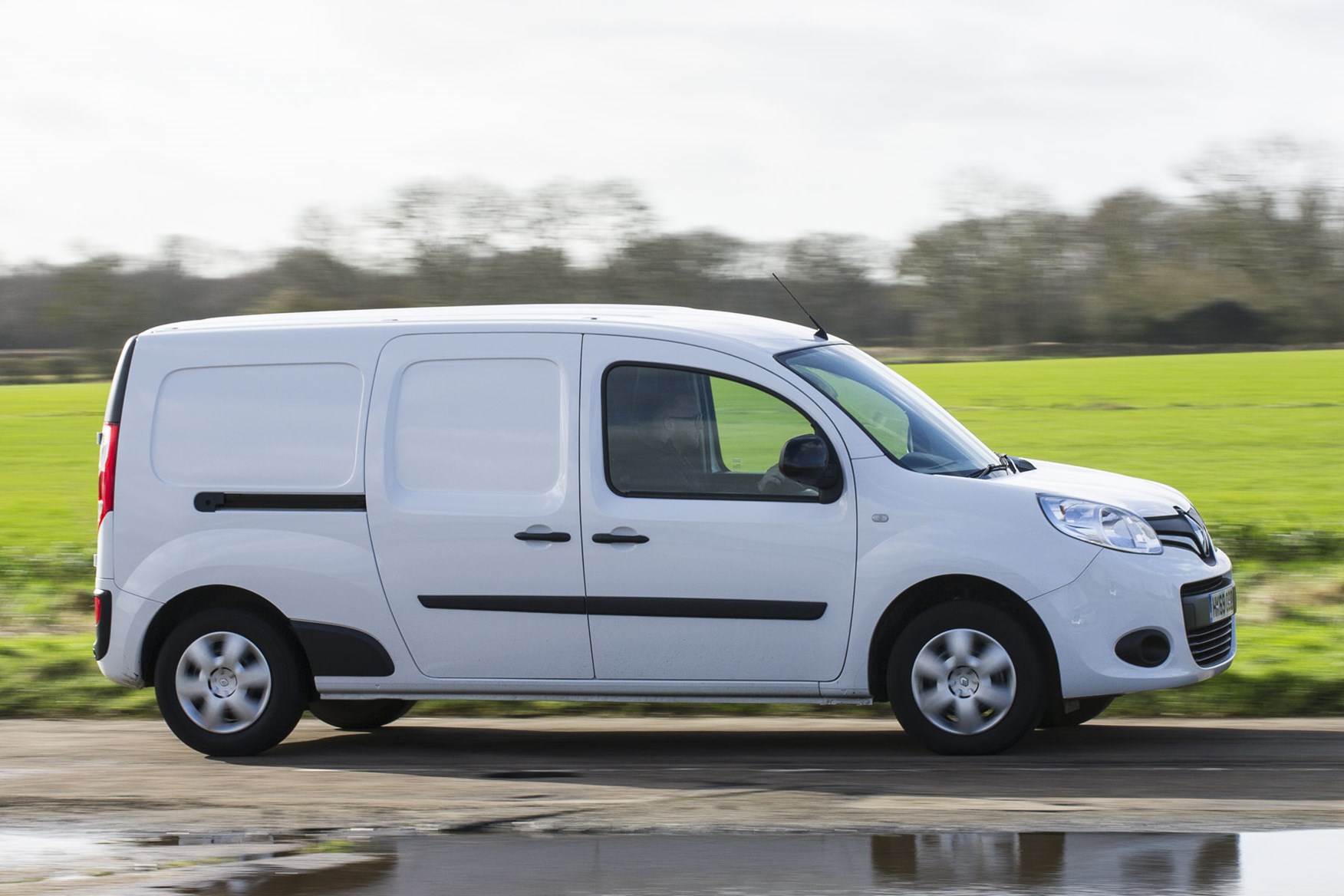 In 2017, the new and improved ZE 33 all-electric model was introduced, and in the same year, the firm introduced an optional new EDC automatic transmission.
This Efficient Dual Clutch auto is similar in operation to Volkswagen's DSG, and is far more sophisticated than the four-speed conventional automatic available when the Kangoo launched in 2008. However, customer reception must have been muted, as it's no longer in the UK pricelist.
Still, for more info on what the Kangoo EDC is like to drive, see our Formula Edition review at the bottom of this page.
The latest engine range (writing in January 2021) continues to offer a choice of three 1.5-litre dCi turbodiesels, now rated at 80hp, 95hp and 115hp.
All are fitted with a six-speed manual gearbox, which is a rare treat in the small van class - many rivals still only offer five-speed transmissions on lower-powered models.
What's the Renault Kangoo van like to drive?
Much like the design of the cab, the Kangoo's driving experience does the job but isn't likely to excite you.
The steering and pedals are light, and it feels nimble enough around town. But you'll find you have to put plenty of effort into turning the steering wheel before the van actually changes direction, and the manual gearbox could be easier to get on with.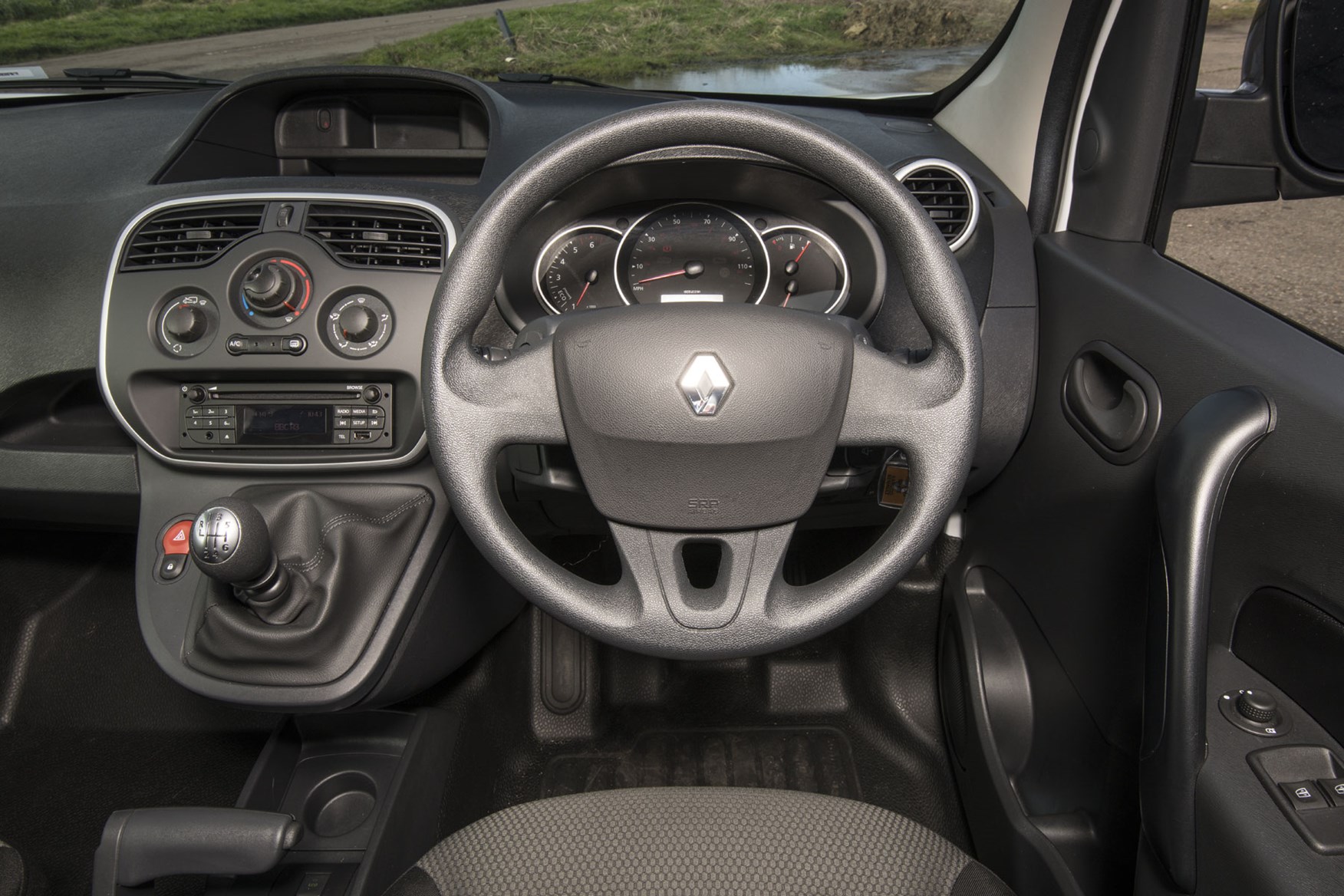 Ride quality is relatively comfy, but the softness here also translates into quite a bit of body roll in the corners.
Refinement seems to have improved with the latest round of engine updates. This used to be quite a noisy van to drive fast, particularly in open-bulkhead versions where there's only metal mesh between you and the echoing load area, but the most up-to-date models are quieter (although a fixed bulkhead still certainly helps).
Ending on a positive, the 1.5-litre dCi is a long serving and very well developed engine at this stage in its life. It delivers smooth performance, feeling well up to the job of handling the payload requirements of this small van.
Is the electric Renault Kangoo any good?
The ZE electric models are far quieter and offer the simplicity of a single-speed transmission – which acts just like an automatic – as standard.
The electric motor's instant torque and energy-recovering braking effect whenever you lift off the accelerator make them easy to drive, too, especially around town. Although they do run out of steam at higher speeds or when faced with a particularly big hill.
Still, as long as you don't have too far to go – even the newer ZE 33 model barely travels 100 miles in the real world between charges – and can cope with the potential for range anxiety, the electric Kangoo is arguably the best Kangoo.
Having a large battery pack beneath the floor even helps the handling in the corners, and because it is beneath the floor you don't lose any load capacity, either.
You can read more this in our main electric Renault Kangoo review.
Plain and very plasticky inside
No reach adjustment for the steering wheel
Controls and clear and mostly easy to use
It's fair to say the Renault Kangoo is not blessed with the most inspiring cab. And this is after the update in 2013, which significantly modernised the design.
Yes it's spacious, and with a high seating position and large windscreen there's plenty of forward visibility. But the look of the interior is exceptionally bland, and the quality of the plastics suggest it was all built to a price that would make it fit for purpose and absolutely nothing more.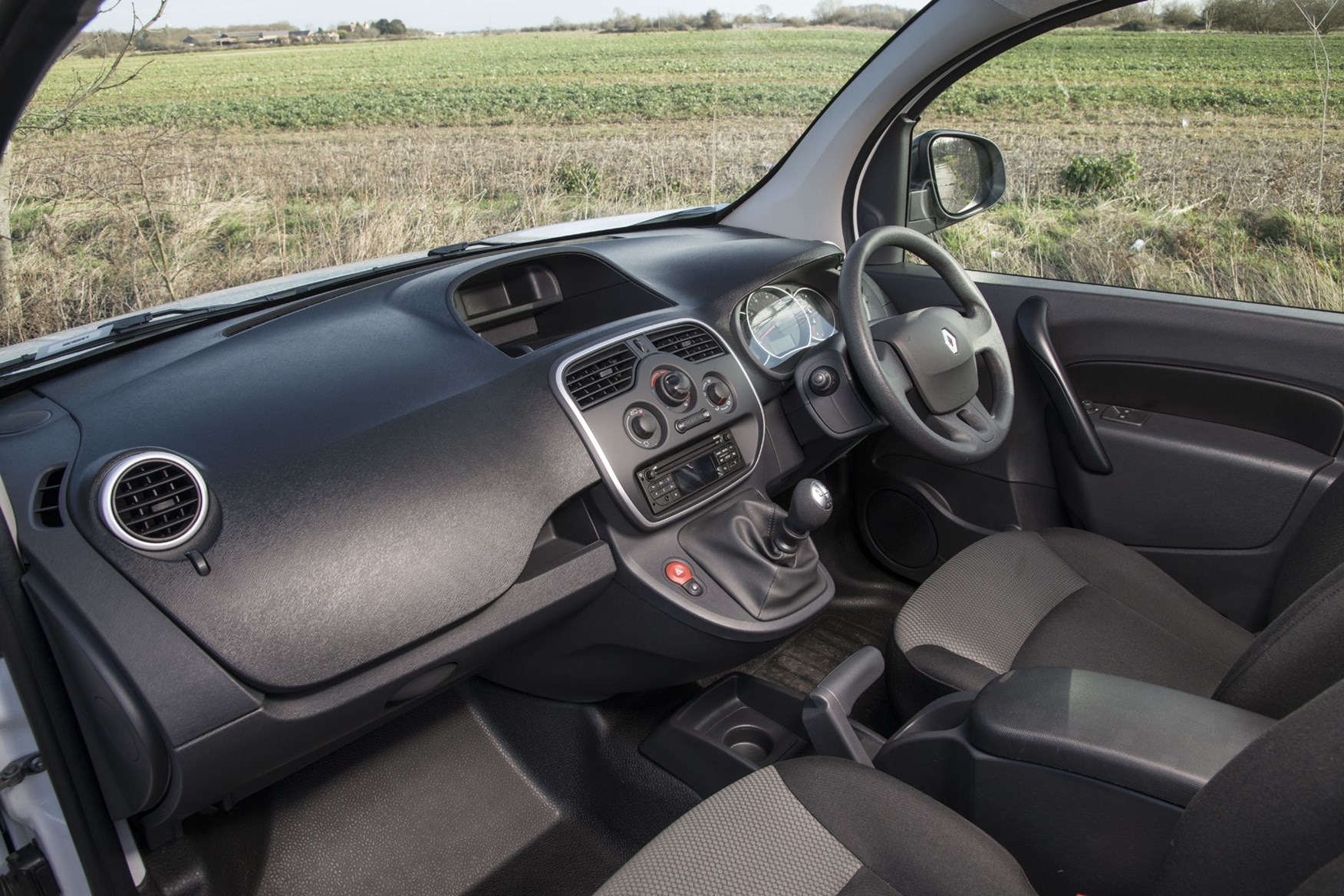 Making matters worse, the steering wheel only adjusts for angle - it does not adjust for reach - so you may find it difficult to get your ideal driving position.
Still, the controls and instruments are familiar items from the Renault parts bin, which means they're generally clear and easy to operate. We particularly like that there is a section of the rev-counter marked 'Eco', an easy way to help you understand the most fuel-efficient way of driving it.
Awkward sat-nav
Some of the details are a bit daft, however. Option the Renault sat-nav infotainment system for example, and it retains its touchscreen capability, even though the screen is tiny and buried deep within the dashboard where it's impractical to reach.
This leaves you with the slightly awkward manual controls mounted on the fascia. Renault has a penchant for oddly-shaped handbrake mechanisms, too…
Good value pricing and standard equipment
No WLTP fuel economy figures
Why the Kangoo ZE may be cheaper than you think
Competitive pricing with generous standard equipment means the Kangoo has always been a solid value-for-money proposition.
Renault Kangoo mpg
The Kangoo's 1.5-litre turbodiesel engines may be old, but they continue to offer good on-paper fuel economy figures, helped by the introduction of stop-start technology in 2013.
For the latest models, which are now fitted with an AdBlue tank to reduce harmful emissions, a best figure of 64.2mpg is available from the middle-ranking 95hp version.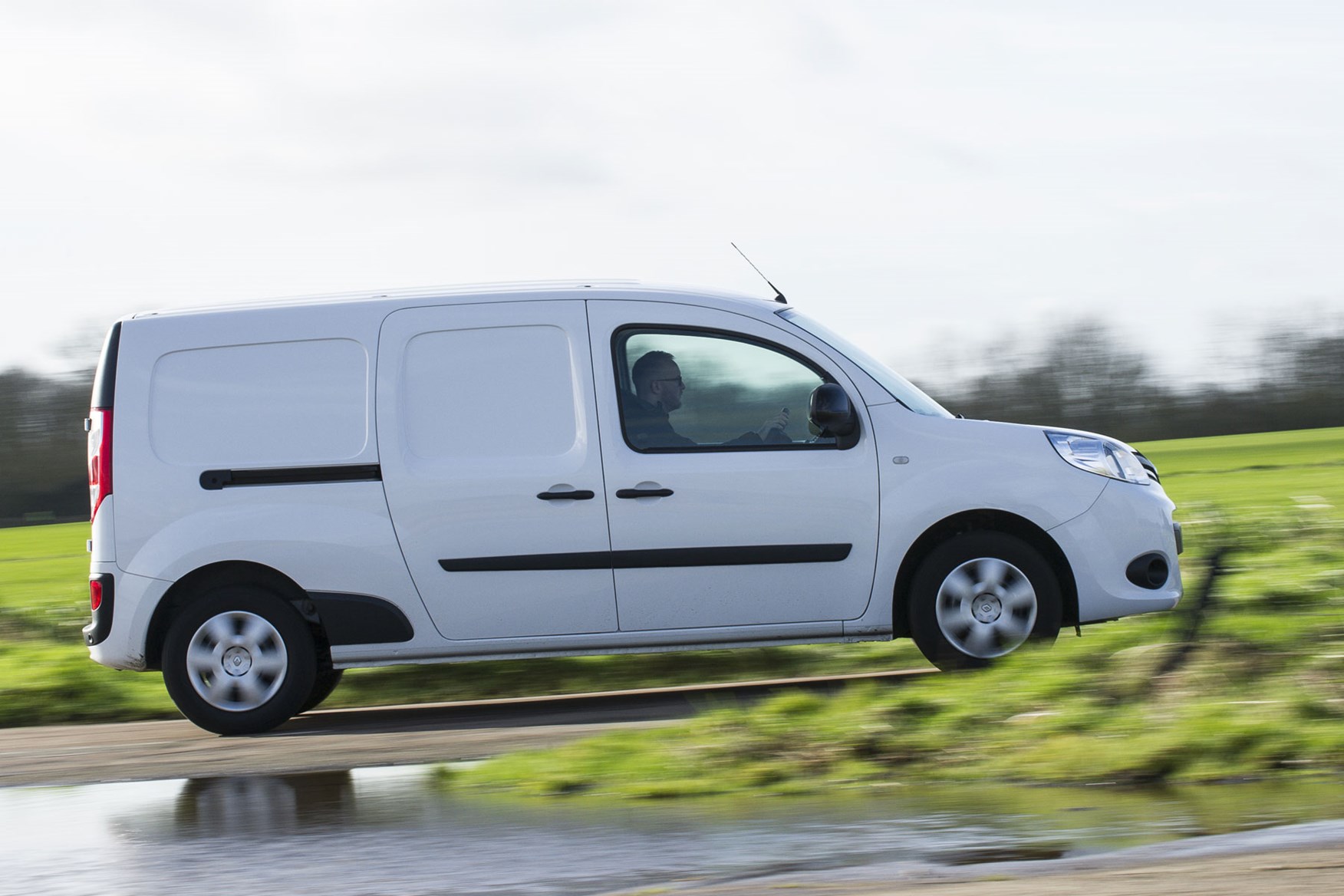 It's hard to compare this figure to rivals, however, as it's not a true WLTP figure, the latest, more realistic fuel economy measuring standard.
Also, be warned that the Kangoo EDC automatic is around 10mpg less efficient than manual gearbox equivalents – though it should also save on clutch replacement costs. In theory.
Renault Kangoo ZE running costs
If you really want a cheap van to run and have a predictable daily distance that fits within the vehicle's capable range, the ZE electric version of the Kangoo should give you much lower per mile 'fuel' costs than diesel.
Even the servicing should be cheaper, as there are fewer moving parts, and if you drive them well, electric vans are lighter on brakes.
What's more, while the purchase price is higher, leasing can be very competitive.
Renault Kangoo warranty and service intervals
This varies a bit with the age of the van. While most were covered from new by a three-year warranty, there was a period where this was increased to a four-year warranty, and now it's back to a three-year / 100,000-mile warranty.
Similarly, most Kangoo vans have two-year / 18,000-mile service intervals - including the latest versions which feature AdBlue tanks for emissions control.
However, the original Euro 6 versions (which don't have an AdBlue tank) were rated to 24,000 miles (or two years).
We'd probably want someone to look them over once a year, regardless.
Renault Kangoo trim levels and standard equipment
The Kangoo has been on sale since 2008, and has been updated several times since then – chopping and changing the availability of trim levels and variants throughout.
At one point, the top trim level was Sport, for example, but as of mid-2017, the only choices are Business and Business+.
Here's what you get in the way of standard kit (at time of writing in January 2021).
Renault Kangoo Business standard equipment highlights:
DAB radio with aux-in, USB connection and Bluetooth
Electric door mirrors
Electric front windows
Load area lighting
Air-conditioning (most powerful model only)
Height-adjustable driver's seat
Remote locking with deadlocks
Alarm
Renault Kangoo Business+ standard equipment highlights (in addition to Business):
Electric door mirrors with folding function
Centre console with armrest
Overhead parcel shelf
Air-conditioning (entire range)
Rubber floor in the load area
15-inch alloy wheels
Body-coloured bumpers
Rear parking sensors
The longer Kangoo Maxi vans get twin side loading doors, while the shorter standard Kangoo only gets a single sliding door on the passenger side.
The Kangoo ZE electric van gets bespoke instrumentation, plus charging port, charging cable and a pre-heating function (allows you to heat or cool the cabin while connected to the mains to preserve battery power for driving).
Kangoo Crew vans get split-folding rear seats and a multi-position bulkhead as standard; they also get twin sliding side doors but you have to pay extra if you want these glazed (which seems a bit unfair on the backseat passengers).
A Kangoo Formula Edition was added to the range as a special edition in late 2017.
It's a popular van that's been in production for ages - it should be reliable, shouldn't it?
While the durability of Renault cars has often been questionable in the past, improvements over recent years should hold Kangoo reliability in reasonably good stead.
This is one of Europe's top-selling vans and has been in production for a long time, so Renault must be keeping owners happy. There are few reports of horror stories, though niggly little problems aren't uncommon. If buying used, check for warning lights, poor starting, poorly fitted trim and sliding doors that don't open smoothly.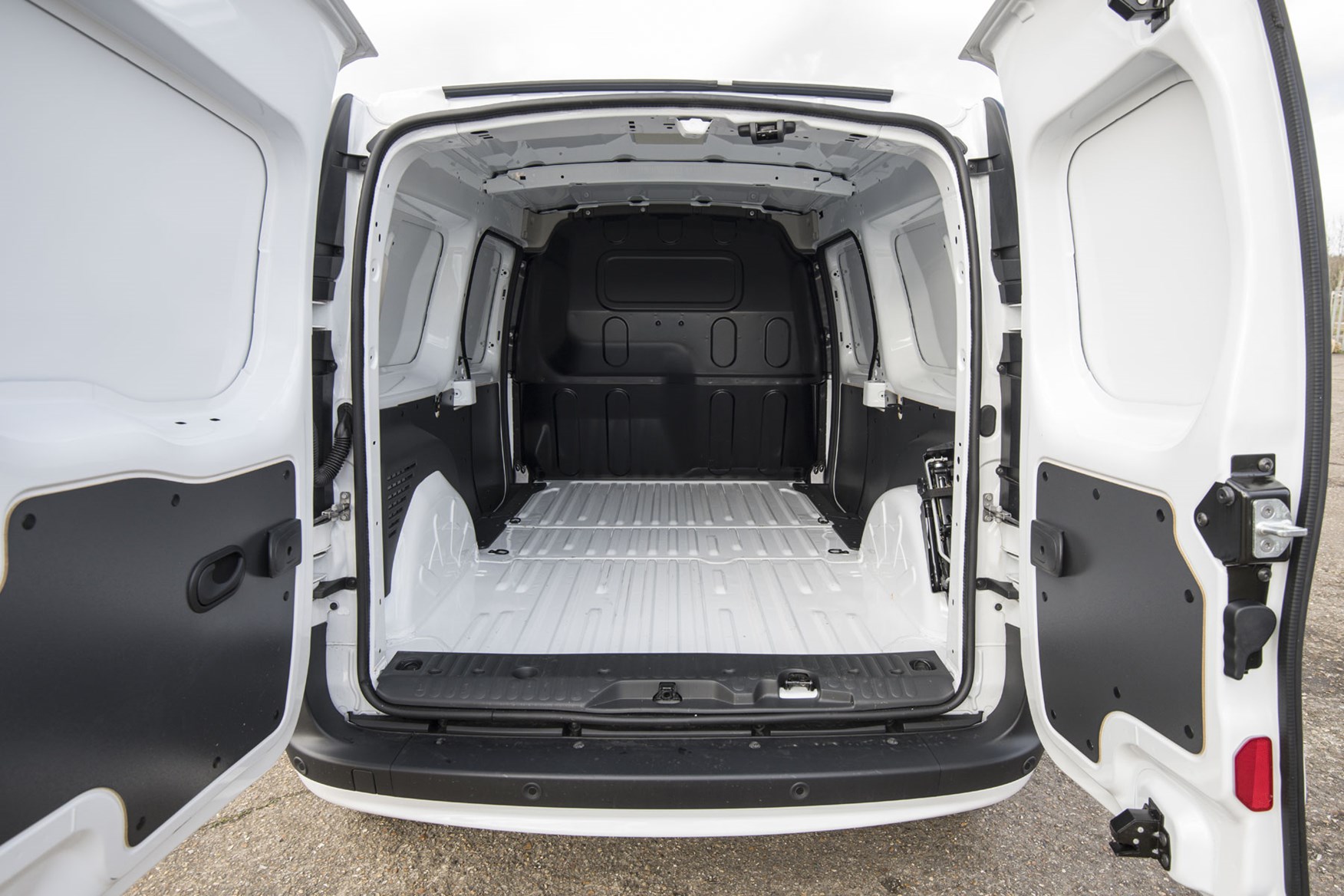 Considering how long it's been on sale, there haven't been very many official recalls, either. The largest was related to a power steering fault, but this only applied to vehicles built in 2009 and was identified the same year - so all should have been fixed by now.
Renault Pro+ servicing
Renault does offer specialist light commercial servicing through its Pro+ network should the worst happen – the advantages of this over a regular Renault car dealership include extended opening hours and the ability to turn up without an appointment.
Safety equipment lags well behind the latest rivals
All models now have an alarm as standard
As was standard for a van launched in 2008, while earlier versions did get a driver's airbag as standard, electronic stability control (ESC) was only optional.
This was rectified during a mid-life facelift in 2013, when ESC was made standard across the range. It's not quite your average system either, as it also features hill-start assist and a Grip Xtend button.
Grip Xtend juggles the electronics to help you get more traction on slippery surfaces such as snow and gravel.
You do still have to pay extra for an airbag for the passenger, however. Though if your 'passenger' is usually parcels or other goods, that probably makes sense.
How safe is the Renault Kangoo Van?
The passenger version of the Kangoo did receive a four-star Euro NCAP score, but this was back in 2008 when the testing regime was much less severe than it is now; the closely-related Mercedes-Benz Citan small van received three stars in 2013, and again the test has been made more difficult since then.
What's more, even Mercedes called this result 'not satisfactory'. Renault offers none of the active driver aids we've increasingly come to expect on modern vans.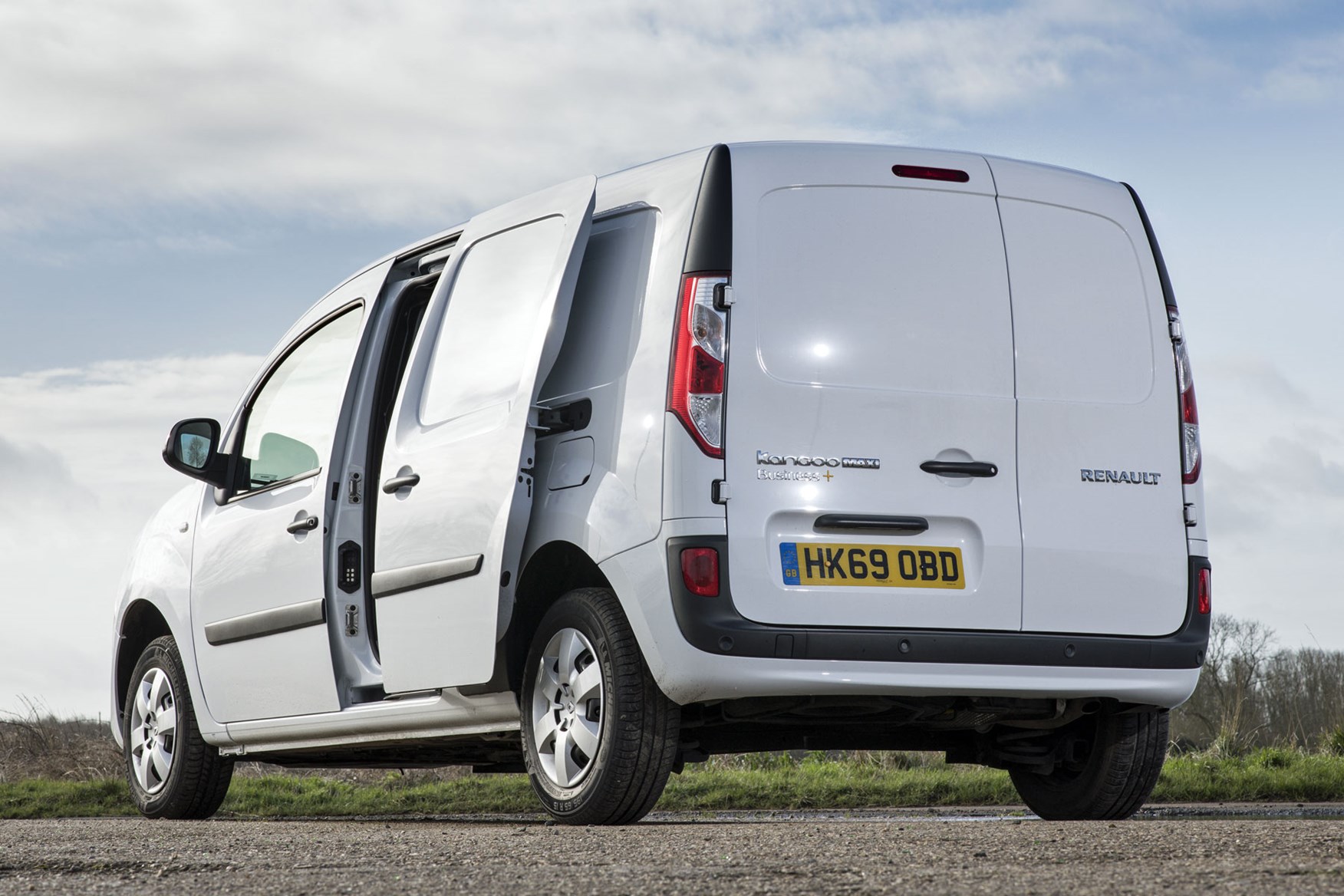 So if you're looking for a particularly safe small van, we'd recommend going for a much newer model such as the VW Caddy (launched in 2015, and fitted with autonomous emergency braking as standard from 2017), the Ford Transit Connect (2013), or the Citroen Berlingo / Peugeot Partner / Vauxhall Combo (2018-2019).
Still, from 2015 all versions of the Kangoo were upgraded to include a full steel bulkhead – or a multiposition metal mesh bulkhead in the case of the Crew van.
How secure is the Renault Kangoo van?
Deadlocks, remote locking, an immobiliser, the Renault Anti Intruder Device (RAID) and an alarm are all standard on the latest versions.
Until very recently an alarm would have been extra, however, so if shopping for a used example it will be worth checking on this, and perhaps budgeting to have one installed if not already fitted.
Which Renault Kangoo is best for me?
Still trying to decide which Kangoo to buy? We've a few individual model reviews below to help you, including a test of the EDC automatic gearbox.
Renault Kangoo Formula Edition 1.5 dCi 110 EDC automatic review
Tested March 2018 by CJ Hubbard
Eye-catching looks but eye-watering price
EDC automatic gearbox works very well
But it also costs nearly 10mpg versus manual
The Renault Kangoo Formula Edition celebrates the link between the Renault Pro+ van business and the Renault Formula 1 team.
Like its bigger brothers, the Formula Edition versions of the Trafic and the Master, this Kangoo comes in a striking black and yellow colour scheme, and is based on the Business+ specification, topped up with a number of included extras.
It's available with either the dCi 90 or dCi 110 1.5-litre diesel engine, but only as a panel van – so you can't have a crew van or a Kangoo ZE electric version.
Here we're testing the standard length ML19 dCi 110 model, with the added bonus of the EDC automatic gearbox, which is also new to the Kangoo range.
What's different about the Renault Kangoo Formula Edition?
This is all about the look of the thing, really. The black paint is a surprisingly eye-catching deep pearlescent metallic that shines beautifully in the sun, while the Sirius Yellow accents mean that this is one little van that's sure to draw the attention of even casual observers.
You might think it looks a bit much in the pictures – and we're inclined to agree. But consider it as a means of advertising your business, and it's surely going to stick in the mind of potential customers much more than a plain white alternative.
The full list of Formula Edition visual upgrades is as follows:
Pearlescent black paint
15-inch black alloy wheels (with yellow centres)
Formula Edition side graphics (yellow)
Black front grille (accented in yellow)
Fog light surrounds (yellow)
LED daytime running lights
This particular van is fitted with an optional sliding roof flap (£220) so you can stick longer objects out of the top.
Can't say we've ever seen anyone using one of these flaps on the road, but it's a clever way of making a small van more practical.
What do you get inside the Renault Kangoo Formula Edition?
A smart set of Formula Edition floor mats and a leather steering wheel, which adds a desperately needed touch of additional luxury to the Kangoo's rather plain cab design. Cruise control comes as standard, and you get all the kit that's already included with the Business+ specification.
Further options fitted here include a swivelling mesh bulkhead replacing the standard fixed item; complete with folding passenger seat, this is another way this small van works hard to be more practical – and the combo is reasonably priced at £225.
Renault has also added automatic lights and wipers (£210) and the R-Link sat-nav infotainment system (£675, plus £90 for European mapping).
What's the Renault Kangoo EDC automatic gearbox like?
This is our first chance to try a Kangoo with the EDC 'box, and we're impressed – in fact, it works better here than in most Renault cars we've tried it in.
This is an automatic transmission of a similar design to the Volkswagen DSG system, which means it's quick to react and very definite with its gearshifts. So you don't get that slushy, imprecise feeling that sometimes plagues conventional automatics.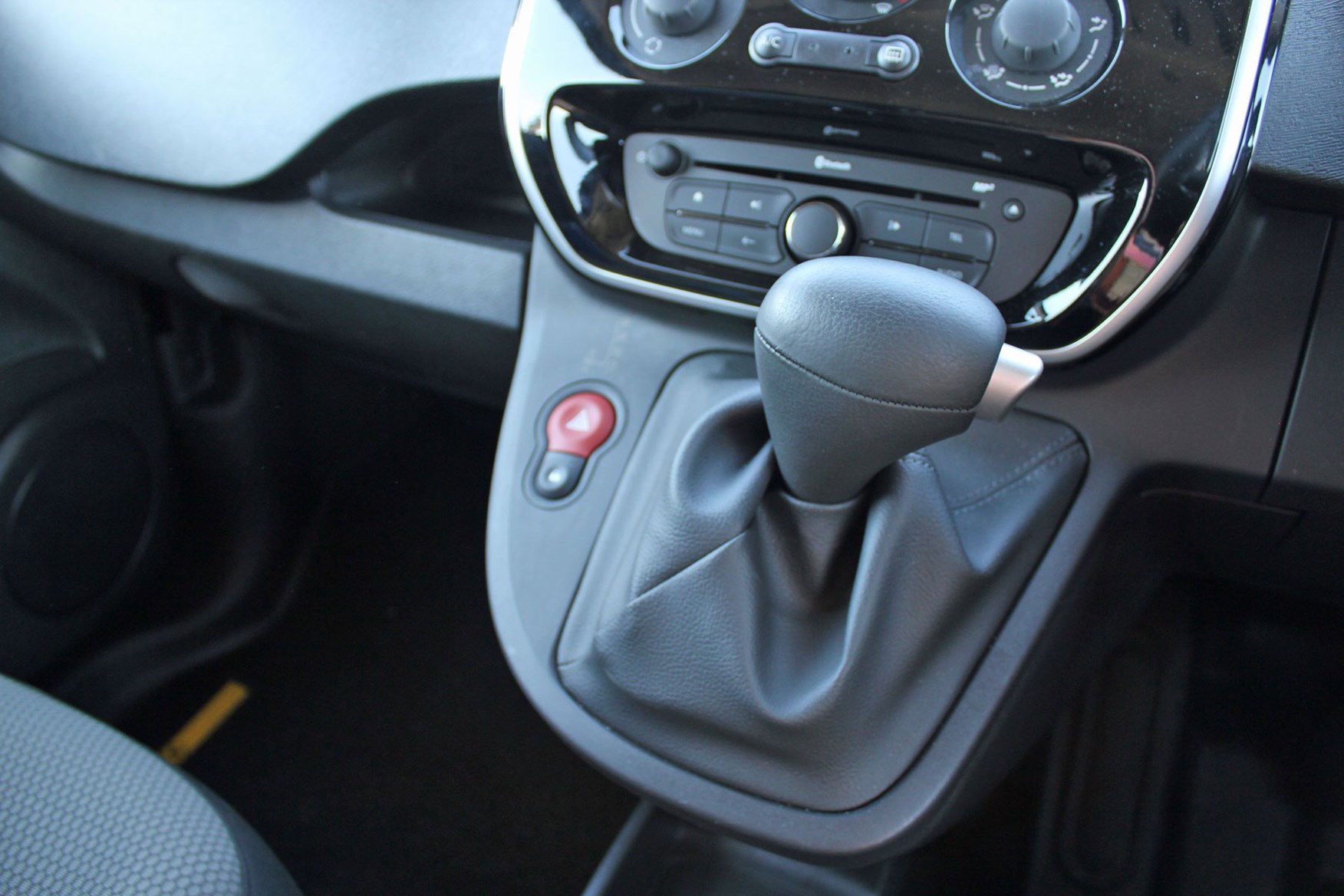 Paired with the Kangoo's most powerful engine – the 1.5-litre dCi 110 produces 110hp and 250Nm of torque – it helps give this van a particularly nippy feel from behind the wheel. It certainly feels faster than the official 12.7 second 0-62mph time would suggest.
Unfortunately, as you'll see in the value section below, the EDC gearbox is also expensive, and has a significant impact on the Kangoo's claimed fuel economy.
The actual handling is still a bit rolly-poley, as the Kangoo not only tends to lean quite a bit in the corners, but also has some of the slowest steering in the small van sector – meaning you have to turn the wheel a lot when making sharper turns.
But overall we found this version rather fun to drive, which suits the look of it perfectly.
Is the Renault Kangoo Formula Edition good value?
The difference between the Kangoo Business+ and the equivalent Kangoo Formula Edition is £1,600 (plus VAT) at the time of writing in March 2018. That's not exactly small change, so you'll have to weigh up just how much you think the distinctive looks mean to you – or your business.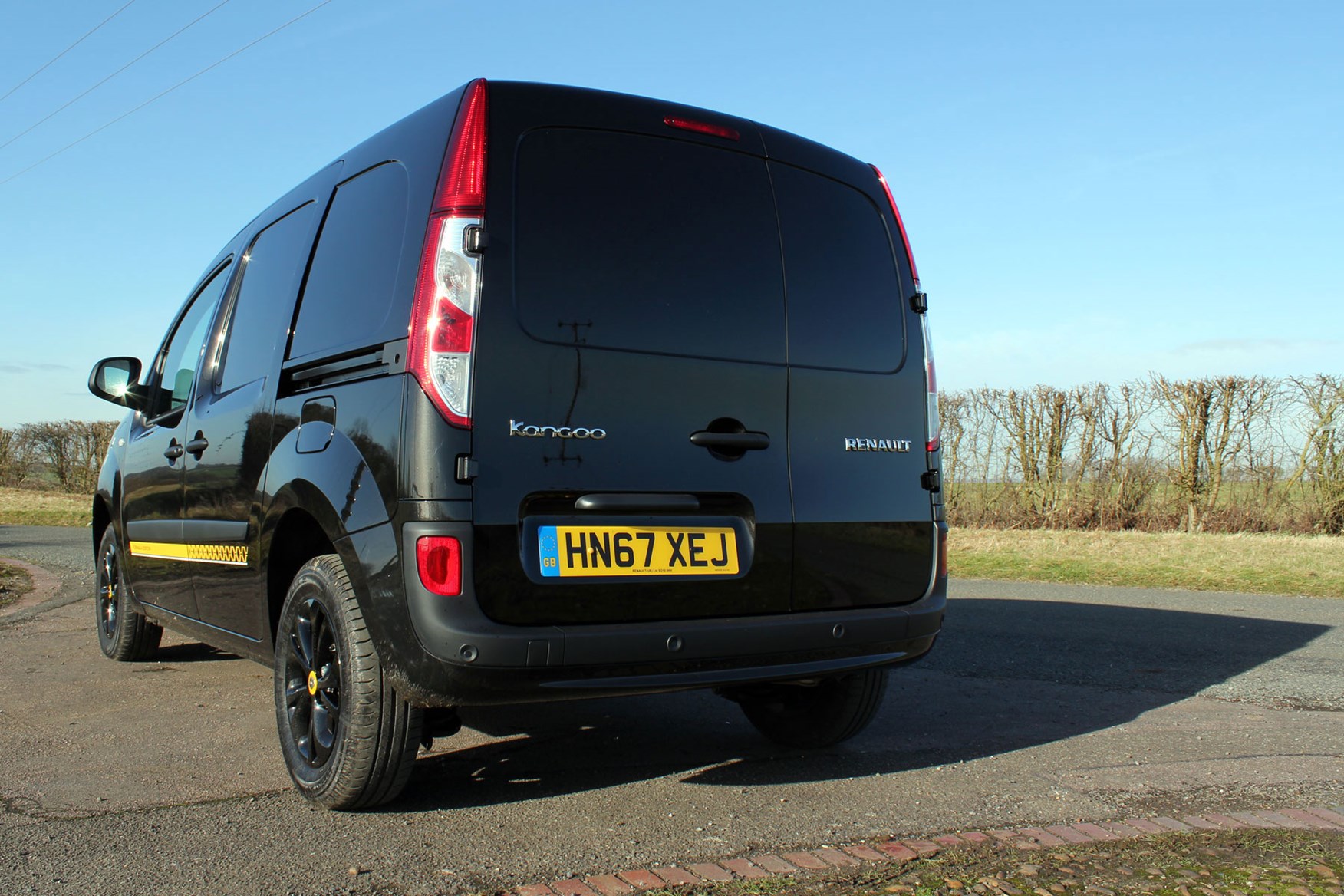 The EDC gearbox is likely to be even more of a luxury, as it demands a £2,000 ex-VAT premium over the standard manual gearbox. It also has a surprisingly large negative impact on the Kangoo's fuel economy, with Renault claiming 55.4mpg for the EDC and 64.2mpg for the cheaper dCi 110 manual.
How much are you prepared to pay the convenience of not having to use a clutch in traffic? All told, this dCi 110 EDC costs £20,145 basic – before any other options. This is not a thrifty small van.
Should I buy a Renault Trafic Formula Edition?
This van is distinctive and good to drive on the one hand, brash and almost eye-wateringly expensive on the other.
And since there are already other small vans we would choose over the Kangoo it's difficult to recommend this model unless you're really taken with the Formula Edition looks.
---
Renanult Kangoo Sport 1.5 dCi 90 review
Tested December 2013 by Liam Campbell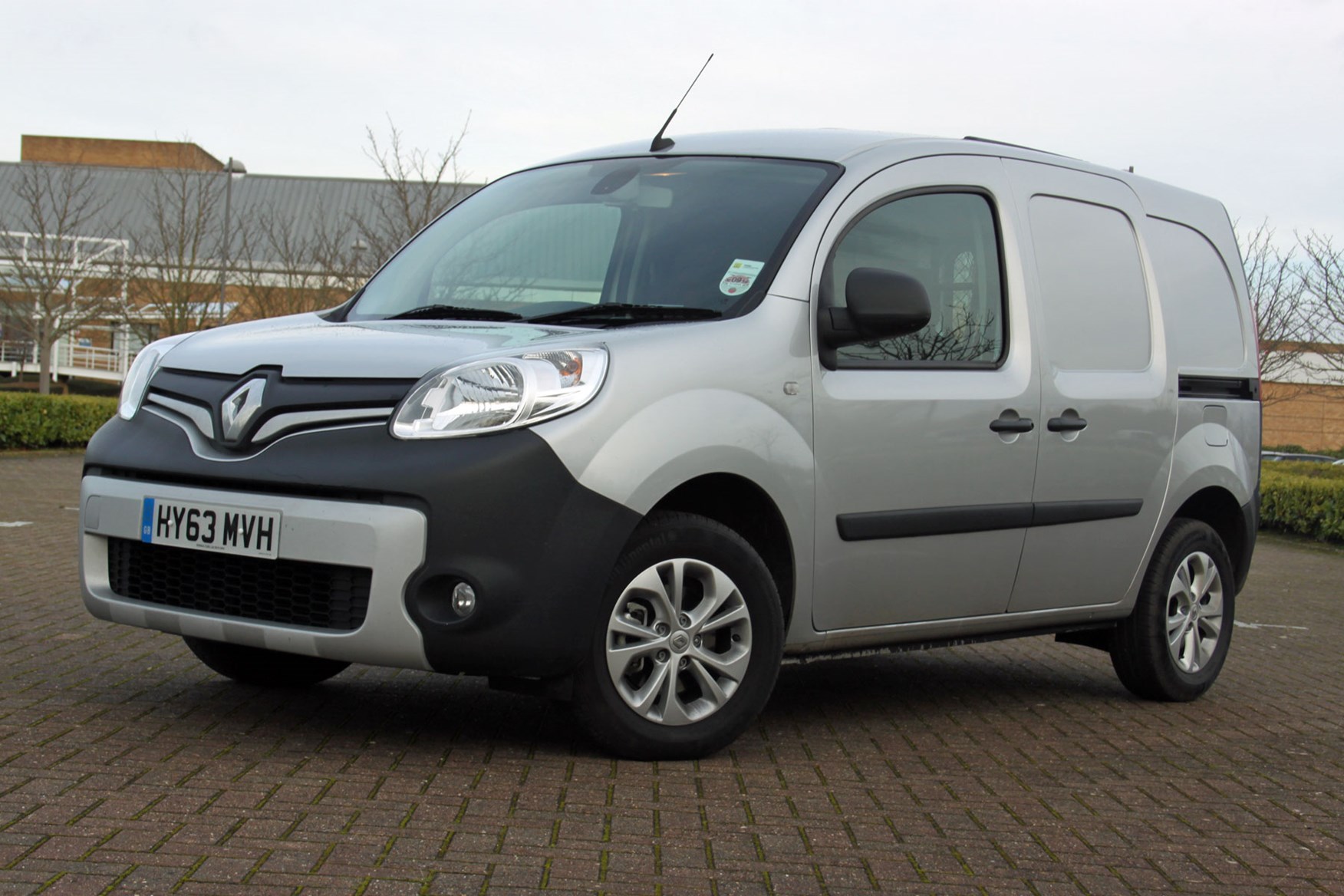 Renault's small van gets a new look and new kit
Tested in Sport trim with the middle engine option
This version starts from £14,800 excluding VAT
The Renault Kangoo small van has been around for a while now, this generation being launched in 2008. Earlier in 2013 it was spruced up with a facelift to keep things fresh, including a new front bumper to give it a look more in-line with the current Renault car range.
Inside, the dashboard has a new look too with the introduction of the 'R-Link' multimedia system (which includes a TomTom LIVE sat-nav function) already fitted to certain Renault cars like the Megane. It's available as an option on mid-level models or as standard equipment on Sport derivatives – like the van tested here.
Sport specification
Sport is the top model and includes disc brakes all round rather than drums on the rear, electric mirrors and windows, air-conditioning, front fog lights and 15-inch alloys.
As with all Kangoos, there's a choice of three power outputs for the 1.5-litre dCi diesel engine: 75, 90 or 110hp. Here we're testing it with the middle 90hp output and standard five-speed manual gearbox (110hp versions get an extra gear).
It doesn't feel all that quick (even when unladen), but it's fine for urban driving and can cope with more open roads well enough if needs be.
Low running costs
Claimed average fuel economy is a decent 65.7mpg with CO2 emissions of 112g/km, so ownership and running costs don't look bad at all.
Sport models also get an Eco mode switch which dulls the throttle response and engine mapping to improve fuel consumption by as much as 10%, says Renault.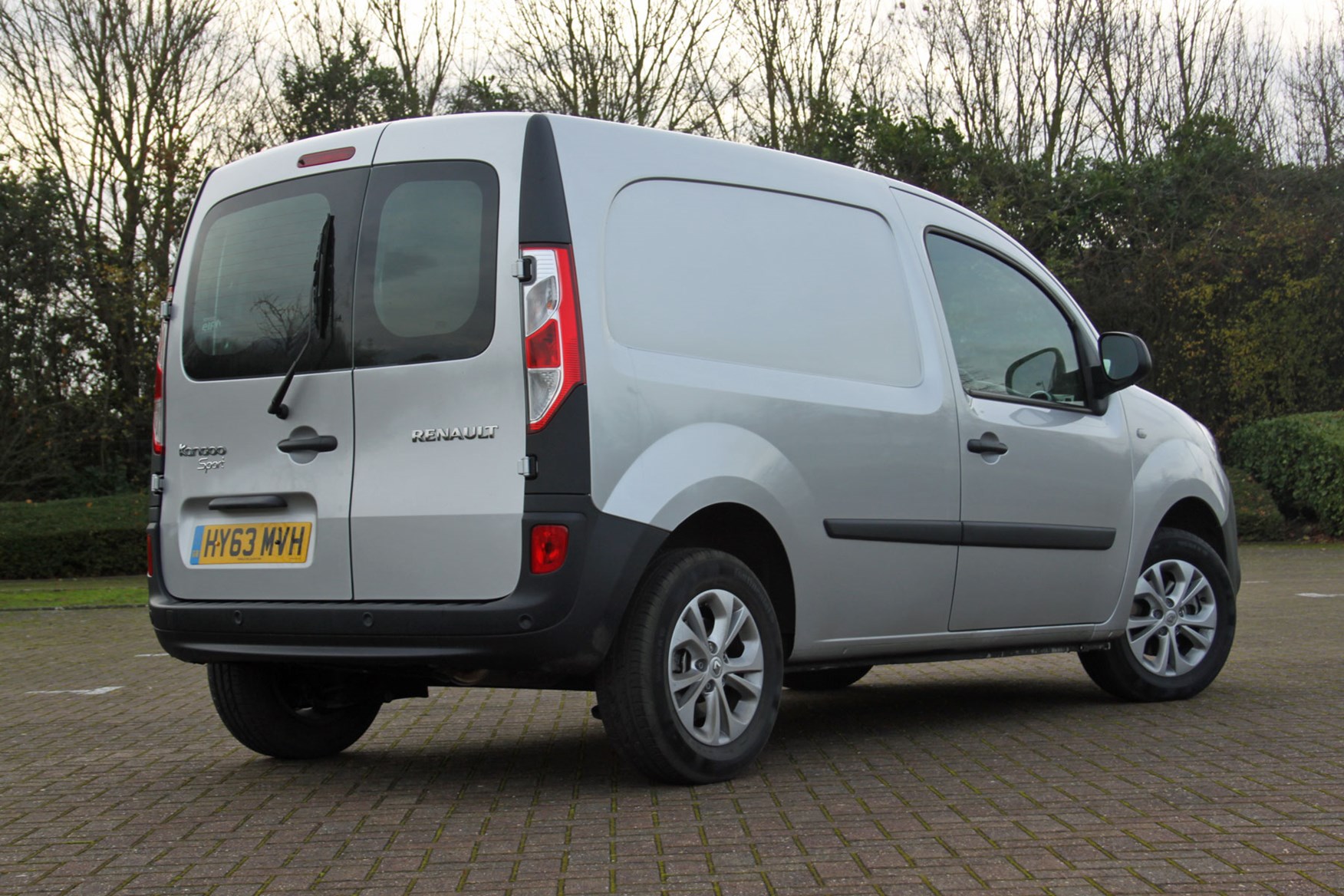 Also new as part of the 2013 updates is a gear shift indicator that advises the driver to change up at the optimum time to save fuel.
The brakes on our test vehicle felt a little odd, with little response at the top of the pedal and then a very grabby, over-sensitive reaction beyond that – not ideal for drivers wearing work boots. However, other Kangoos we've driven haven't suffered from the same issue so perhaps it was just a quirk of this particular test vehicle.
Cabin design issues
Sharp brakes apart, the Kangoo drives well and is easy to get used to. The steering wheel adjusts for height, although leg room under the dashboard is still a little cramped for taller drivers.
There are a few other design issues that make life more difficult than it should be in the cabin.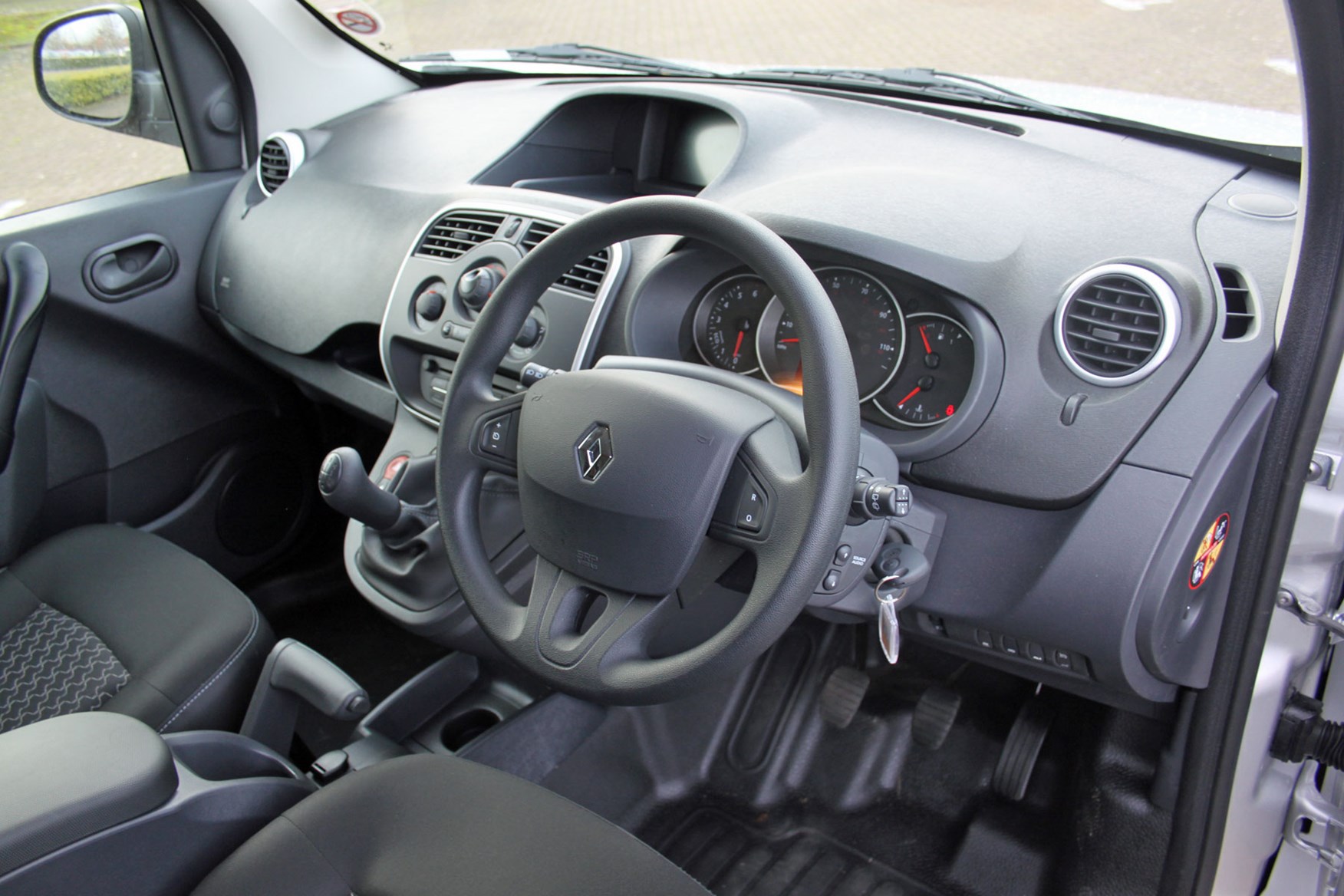 The R-Link screen is set a long way back in the dashboard, which makes using the touchscreen tricky while on the move (the menus and function can be controlled via a dial on the centre console instead). That leaves a large well ahead of it in the dashboard that's tempting to use to stow documents or small items, but in doing so that blocks the screen – especially annoying if you want to use the sat-nav function – so it feels like wasted space.
Most annoying though, are the two cup holders in the centre of the cabin – one under the dash in front of the handbrake and one above and slightly behind the handbrake. The lower one won't fit a tall drinks can or flask, and is almost useless anyway as when the handbrake's released it fills the space above the cup holder.
Likewise, when you go to release the handbrake it's easy to knock your arm against anything stored in the cup holder above it. There are new designed door pockets which are claimed to hold a 1.5-litre bottle so you can store a small drinks can there.
The centre cubby box between the front seats is tricky to access from the driver's seat too and its narrow shape limits the type of objects that can be stored inside it.
Practicality
Our van was fitted with a steel tubular bulkhead behind the two seats with a hinged section, so that when the front passenger seat is folded it's possible to swivel part of the bulkhead forwards to create space to carry longer items.
As standard the Kangoo has a load volume of 3.0 cubic metres and a payload of 600kg but our test van had it increased to 800kg, an option at extra cost. It also featured a passenger-side sliding door for loading.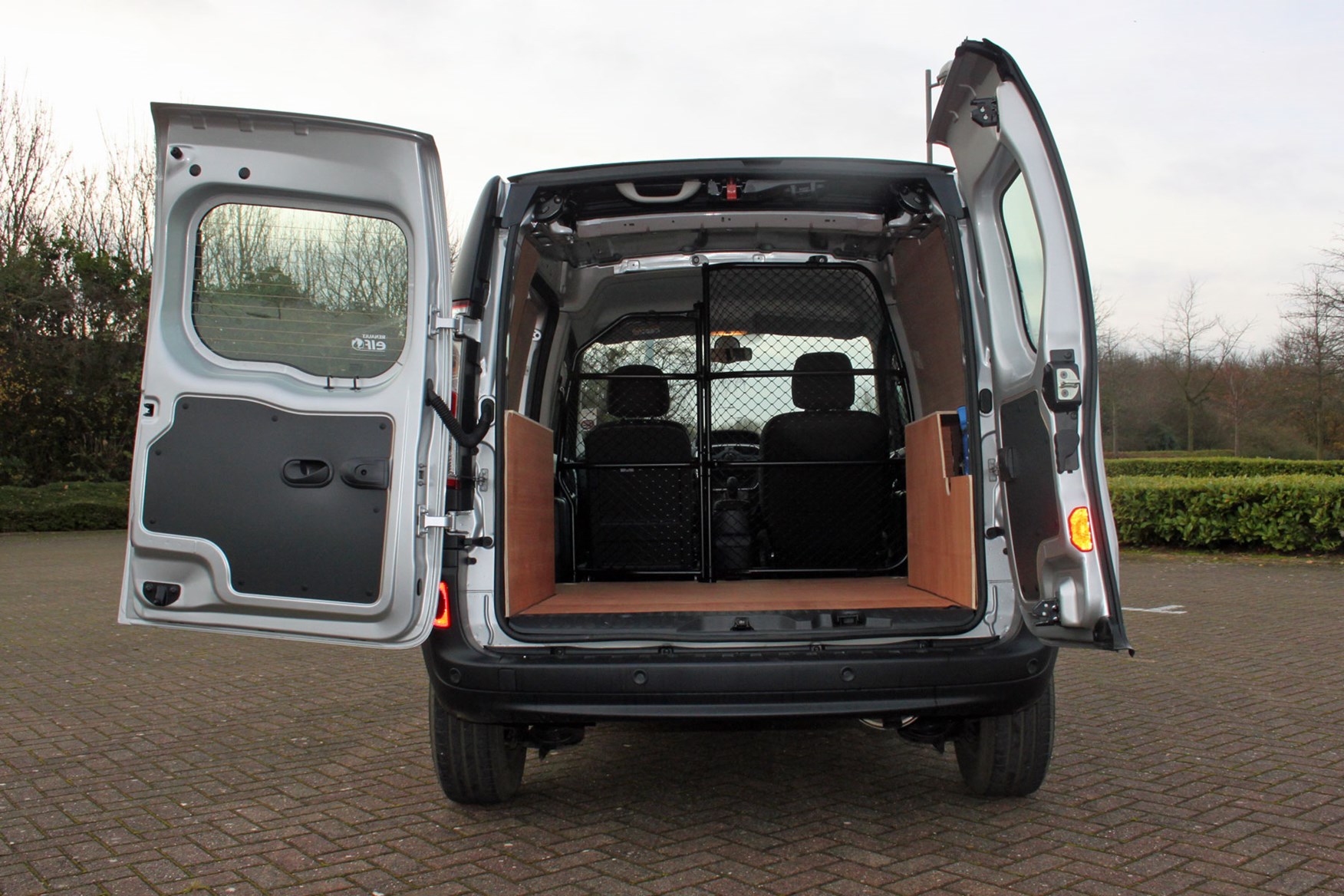 The rear doors have an asymmetrical layout and can be opened as far as 180 degrees if needs be.
There's also a lift-up panel in the roof to help carry extra tall items or so that you can slide in long items such as pipes. It delivers added practicality especially when combined with the folding front passenger seat, though it does mean the rear is open to the elements.
Verdict
Overall, the Renault Kangoo is a likeable small van but one with several ergonomic flaws that could become annoying over time.
It's best suited to small businesses and courier services rather than as a work team van to be used on sites and so on.
We've also been testing the longer wheelbase Renault Kangoo Maxi version, which you'll be able to read about below.
---
Renault Kangoo Maxi Sport 1.5 dCI 90 review
Tested December 2013 by Liam Campbell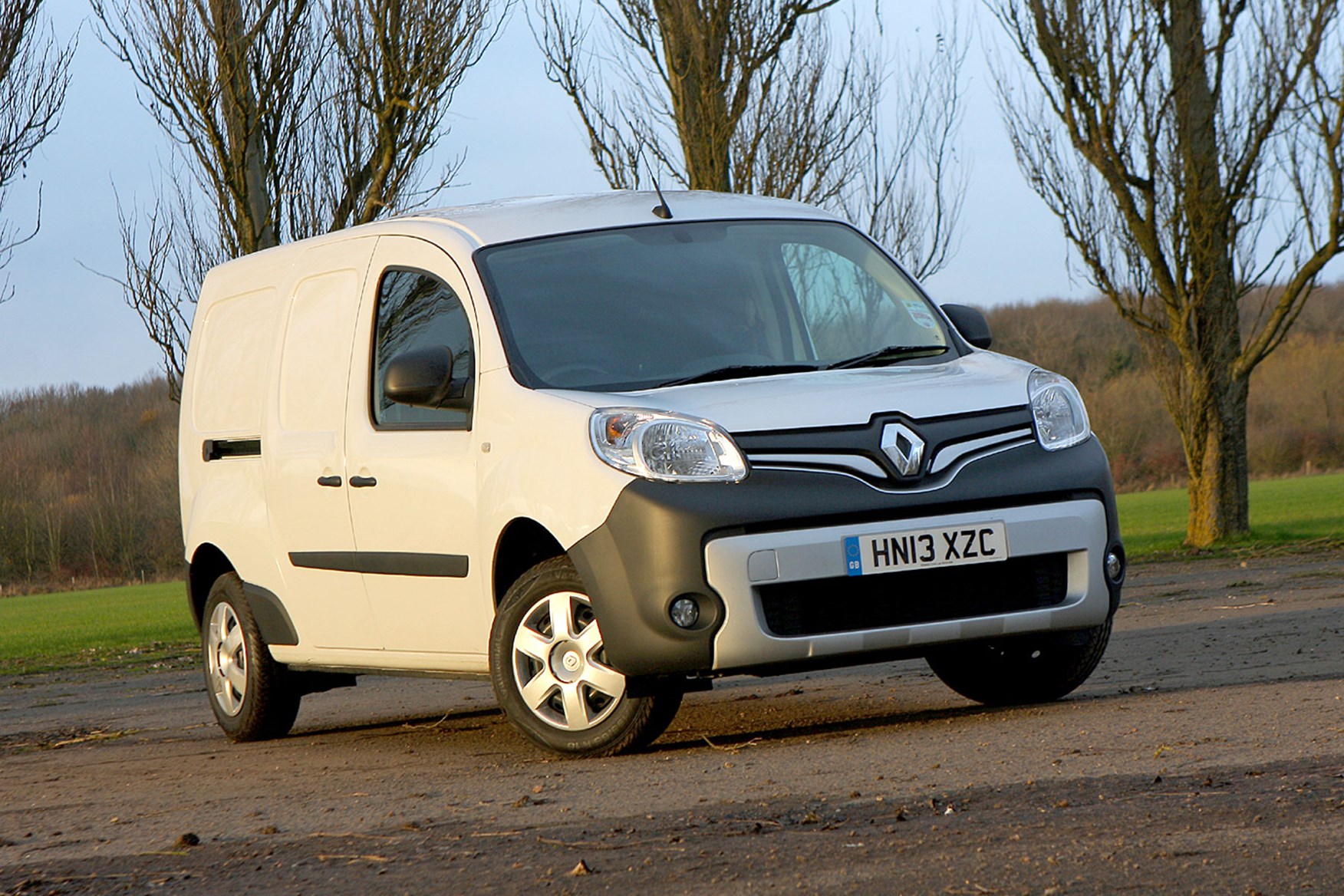 New Phase II version of Kangoo including redesigned front end
Two wheelbases (standard and Maxi), three power outputs and three trims (Pure, Core and Sport)
LWB Sport version with stop/start tested includes TomTom sat-nav and long warranty
Renault's Kangoo has had a makeover with the new 'Phase II' version.
The French company claims it has improved the compact Kangoo van with a new, more striking front end, improved interior quality and a more fuel efficient diesel engine.
Driving experience
This 90hp diesel coupled with a five-speed manual gearbox is the same set-up as in the standard wheelbase Kangoo but it is powering more mass.
The initial punch from the engine feels promising, enabling quick, clean getaways from junctions and nipping through towns.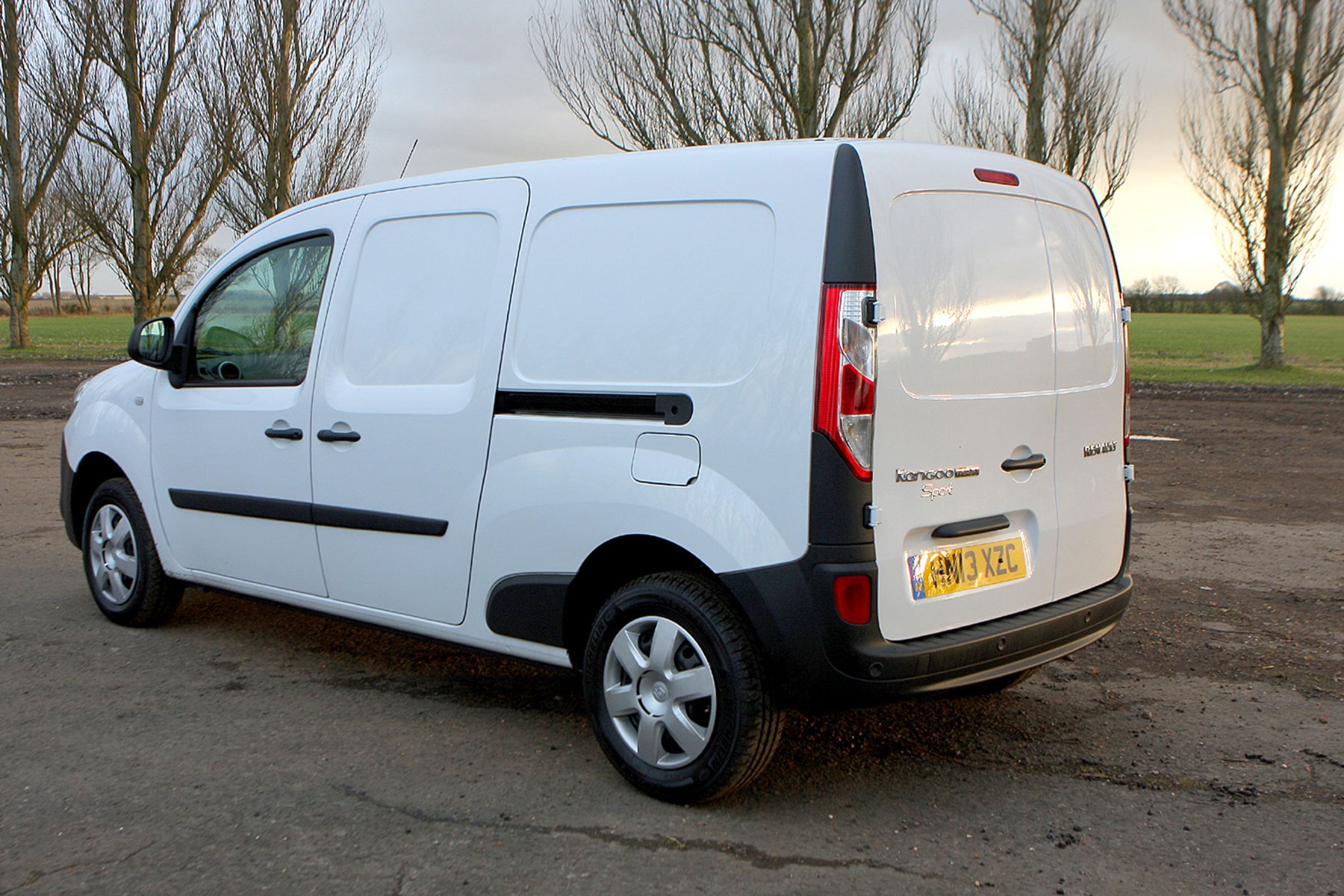 If you continue to rev the engine, however, it soon feels pointless as it quickly becomes breathless, not least because the Eco mode curtails the power to improve fuel consumption. This Eco mode also lights up a green gearstick symbol on the main dash when it recommends a gear change.
Once you get towards 3,000rpm it feels like the engine has given up and it's better to use the pulling power which is at its maximum at 1,750rpm.
Running costs
Renault reckons an average of just over 60mpg but real world driving had the trip computer revealing 46mpg average with a mix of town, country and dual carriageways.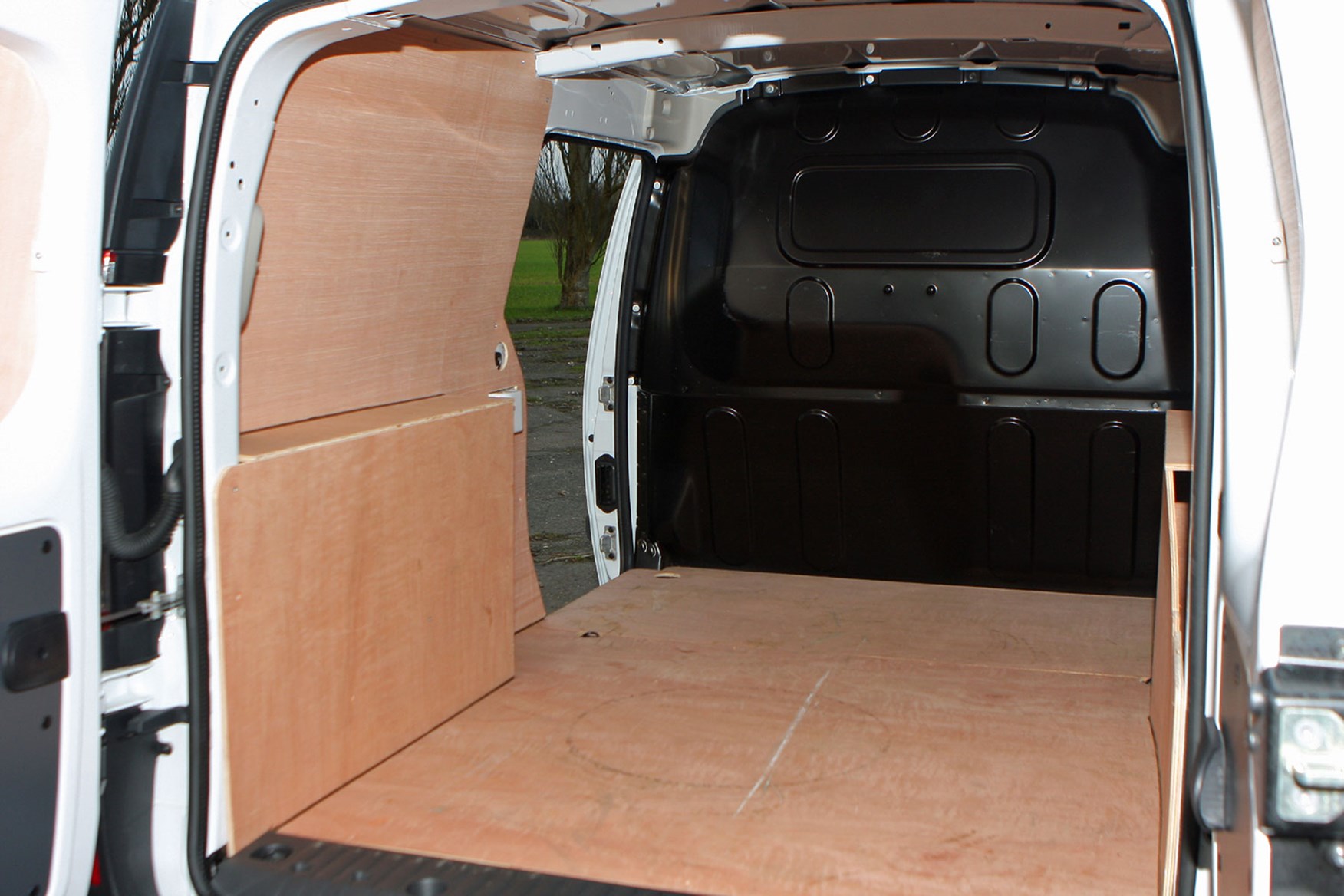 Still it is a useful improvement over the old version and it's helped by the fitting of stop/start technology - vans dubbed 'Energy' have this system.
Verdict
The Maxi is aimed at small business who want cheap running costs but without sacrificing carrying capacity. It will also appeal to fleets looking to reduce costs but maintain flexibility for business use.
This longer wheelbase version takes the rear load space out to just over two metres, and specify the hinged cage bulkhead then the front passenger seat folds to give a load length of just over 2.4 metres.
The Kangoo is not the last word in modern van design but the redesign and improvements in running costs keeps it in the game.
<p>Completing the set, this is <strong>the <a title="The Parkers Vans homepage" href="https://www.parkers.co.uk/vans/">Parkers Vans</a> review of the <a title="Read the full Renault Kangoo (2008 onwards) full review on Parkers Vans" href="https://www.parkers.co.uk/vans/reviews/renault/kangoo/2008/">Renault Kangoo</a> Formula Edition</strong> – which as with the <a title="Review: Renault Trafic Formula Edition - on Parkers Vans" href="https://www.parkers.co.uk/vans/reviews/renault/trafic/2014/swb-16-dci-145ps-sl27-energy-formula-edition-van/road-test/41985/">Trafic Formula Edition</a> and <a title="Review: Renault Master Formula Edition on Parkers Vans" href="https://www.parkers.co.uk/vans/reviews/renault/master/2010/mwb-23-dci-170ps-mm35-energy-formula-edition-medium-rf-van-fwd/road-test/42007/">Master Formula Edition</a>, celebrates the link between the Renault Pro+ van business and the Renault Formula 1 team.</p> <p>Like its bigger brothers, the Kangoo Formula Edition comes in a striking black and yellow colour scheme, and is based on the Business+ specification, topped up with a number of included extras.</p> <p>It's available with either the dCi 90 or dCi 110 1.5-litre diesel engine, but only as a panel van in the standard (ML) or maxi (LL) body lengths – so you can't have a crew van or a <a title="Review: Renault Kangoo ZE 33 electric van on Parkers Vans" href="https://www.parkers.co.uk/vans/reviews/renault/kangoo/2008/electric-44kw-33kwh-ze-ml20-business-van-auto/road-test/41797/">Kangoo ZE</a> <a title="The Parkers Vans guide to electric vans" href="https://www.parkers.co.uk/vans/news-and-advice/electric-vans/">electric version</a>.</p> <p><img title="Renault Kangoo Formula Edition review - rear" src="/PageFiles/264416/Kangoo-Formula-Edition-14.jpg" alt="Renault Kangoo Formula Edition review - rear view" /></p> <p>Here we're testing the standard length ML19 dCi 110, with the added bonus of the EDC automatic gearbox, which is also new to the Kangoo range.</p> <h2>What's different about the Renault Kangoo Formula Edition?</h2> <p>This is all about the look of the thing, really. The black paint is a surprisingly eye-catching deep pearlescent metallic that shines beautifully in the sun, while the Sirius Yellow accents mean that this is one little van that's sure to draw the attention of even casual observers.</p> <p>You might think it looks a bit much in the pictures – and we're inclined to agree. But consider it as a means of advertising your business, and it's surely going to stick in the mind of potential customers much more than a plain white alternative.</p> <h3>The full list of Formula Edition visual upgrades is as follows:</h3> <ul> <li>Pearlescent black paint</li> <li>15-inch black alloy wheels (with yellow centres)</li> <li>Formula Edition side graphics (yellow)</li> <li>Black front grille (accented in yellow)</li> <li>Fog light surrounds (yellow)</li> <li>LED daytime running lights</li> </ul> <p>As it's based on the Business+ trim level you also get body-coloured front and rear bumpers, plus gloss black door mirrors.</p> <p><img title="Renault Kangoo Formula Edition review - special grille and yellow trimmings" src="/PageFiles/264416/Kangoo-Formula-Edition-13.jpg" alt="Renault Kangoo Formula Edition review - special grille and yellow trimmings" /></p> <p>This particular van is fitted with some interesting options as well – including a second side loading door (£230), and a sliding roof flap (£220) so you can stick longer objects out of the top. Can't say we've ever seen anyone using one of these flaps on the road, but it's a clever way of making a small van more practical.</p> <h2>What do you get inside the Renault Kangoo Formula Edition?</h2> <p>A smart set of Formula Edition floor mats and a leather steering wheel, which adds a desperately needed touch of additional luxury to the Kangoo's rather plain and no-nonsense cab design. <a title="What is cruise control? Find out from the Parkers car glossary" href="https://www.parkers.co.uk/what-is/cruise-control/">Cruise control</a> comes as standard, too.</p> <p>Again, this van has some options. A swivelling mesh bulkhead replaces the standard fixed item; complete with folding passenger seat, this is another way this small van works hard to be more practical – and the combo is reasonably priced at £225.</p> <p><img title="Renault Kangoo Formula Edition review - folding bulkhead" src="/PageFiles/264416/Kangoo-Formula-Edition-03.jpg" alt="Renault Kangoo Formula Edition review - folding bulkhead" /></p> <p>Renault has also added automatic lights and wipers (£210) and the R-Link <a title="What is sat-nav? Find out from the Parkers car glossary" href="https://www.parkers.co.uk/what-is/sat-nav">sat-nav</a><a title="What is infotainment? Find out from the Parkers car glossary" href="https://www.parkers.co.uk/what-is/infotainment/"> infotainment system</a> (£675 plus £90 for European mapping).</p> <p>Powered by TomTom, R-Link has impressive traffic avoidance and also includes <a title="What is DAB radio? Find out from the Parkers car glossary" href="https://www.parkers.co.uk/what-is/dab-digital-audio-broadcasting/">DAB radio</a> and <a title="What is Bluetooth? Find out from the Parkers car glossary" href="https://www.parkers.co.uk/what-is/bluetooth">Bluetooth</a>, but is a bit fiddly to use in the Kangoo. It's difficult to take advantage of the touchscreen capability as the monitor is buried deep in the dashboard, and the button controls that replace this aren't especially intuitive.</p> <h2>What's the Renault Kangoo EDC automatic gearbox like?</h2> <p>This is our first chance to try a Kangoo with the EDC 'box, and we're impressed – in fact, it works better here than in most <a title="Renault car reviews on Parkers" href="https://www.parkers.co.uk/renault/reviews/">Renault cars</a> we've tried it in.</p> <p>This is an automatic transmission of a similar design to the <a title="What is DSG? Find out from the Parkers car glossary" href="https://www.parkers.co.uk/what-is/dsg-direct-shift-gearbox/">Volkswagen DSG system</a>, which means it's quick to react and very definite with its gearshifts. So you don't get that slushy, imprecise feeling that sometimes plagues conventional automatics.</p> <p><img title="Renault Kangoo Formula Edition review - EDC automatic gearbox" src="/PageFiles/264416/Kangoo-Formula-Edition-04.jpg" alt="Renault Kangoo Formula Edition review - EDC automatic gearbox" /></p> <p>Paired with the Kangoo's most powerful engine – the 1.5-litre dCi 110 produces 110hp and 250Nm of torque – it helps give this van a particularly nippy feel from behind the wheel. It certainly feels faster than the official 12.7 second 0-62mph time would suggest.</p> <p>Unfortunately, as you'll see in the value section <a title="Click here to jump straight to info about the Renault Kangoo Formula Edition's value" href="https://www.parkers.co.uk/what-is/dsg-direct-shift-gearbox/">below</a>, the EDC gearbox is also expensive, and has a significant impact on the Kangoo's claimed fuel economy.</p> <p><img title="Renault Kangoo Formula Edition review - driving impressions" src="/PageFiles/264416/Kangoo-Formula-Edition-01.jpg" alt="Renault Kangoo Formula Edition review - driving impressions" /></p> <p>The actual handling is still a bit rolly-poley, as the Kangoo not only tends to lean quite a bit in the corners but also has some of the slowest steering in the small van sector – meaning you have to turn the wheel a lot when making sharper turns.</p> <p>But overall we found this version rather fun to drive, which suits the look of it perfectly.</p> <h2>What's the load area like in the Renault Kangoo Formula Edition?</h2> <p>Aside from the options fitted to this particular example, the Formula Edition's load area is the same as any other Kangoo.</p> <p>In the shorter ML guise as tested, that means the following dimensions:</p> <ul> <li><strong>Maximum load length:</strong> 1,731mm<strong></strong></li> <li><strong>Maximum load height:</strong> 1,476mm<strong></strong></li> <li><strong>Maximum load width:</strong> 1,219mm<strong></strong></li> <li><strong>Width between the wheelarches:</strong> 1,218mm<strong></strong></li> </ul> <p>The optional folding bulkhead and front passenger seat boost the loading length to 2,502mm, while the flap in the roof gives you the option to load much taller items, too. Just don't get carried away…</p> <p><img title="Renault Kangoo Formula Edition review - load area" src="/PageFiles/264416/Kangoo-Formula-Edition-08.jpg" alt="Renault Kangoo Formula Edition review - load area" /></p> <p>All the bells and whistles on the Formula Edition will bring down the maximum payload, however, so don't plan on carrying much more than 600kg.</p> <p><strong><a title="Best small vans for payload - on Parkers Vans" href="https://www.parkers.co.uk/vans/news-and-advice/2015/june/best-payload-for-small-vans/">Parkers Vans ranks small vans by payload</a></strong></p> <h2><a name="value"></a>Is the Renault Kangoo Formula Edition good value?</h2> <p>The difference between the Kangoo Business+ and the equivalent Kangoo Formula Edition is £1,600 (plus VAT) at the time of writing. That's not exactly small change, so you'll have to weigh up just how much you think the distinctive looks mean to you – or your business.</p> <p><img title="Renault Kangoo Formula Edition review - side view" src="/PageFiles/264416/Kangoo-Formula-Edition-09.jpg" alt="Renault Kangoo Formula Edition review - side view" /></p> <p>The EDC gearbox is likely to be even more of a luxury, as it demands a £2,000 ex-VAT premium over the standard manual gearbox. It also has a surprisingly large negative impact on the Kangoo's fuel economy, with Renault claiming 55.4mpg for the EDC and 64.2mpg for the cheaper dCi 110 manual.</p> <p>How much are you prepared to pay the convenience of not having to use a clutch in traffic? All told, this dCi 110 EDC costs £20,145 basic – before any other options. This is not a thrifty small van.</p> <p><strong><a title="Most economical small vans - on Parkers Vans" href="https://www.parkers.co.uk/vans/news-and-advice/most-economical-vans/small-vans/">Parkers Vans ranks small vans by mpg</a></strong></p> <p>On top of that, Renault has recently reduced its warranty from four year to three – though you still get the same 100,000-miles of coverage. <a title="Renault reduces warranty, adds EasyLife Plan servicing deals - details on Parkers Vans" href="https://www.parkers.co.uk/vans/news-and-advice/2018/february/renault-pro-easylife-plan-van-servicing/">Cheaper servicing deals are now available instead</a>, however.</p> <p><img title="Renault Kangoo Formula Edition review - steering wheel and cab interior" src="/PageFiles/264416/Kangoo-Formula-Edition-06.jpg" alt="Renault Kangoo Formula Edition review - steering wheel and cab interior" /></p> <p>Still, you do get a good amount of standard equipment beyond the Formula Edition goodies outlined above, including:</p> <ul> <li>Alarm with deadlocks and remote locking</li> <li><a title="What is electronic stability control? Find out from the Parkers car glossary" href="https://www.parkers.co.uk/car-buying/2016/esc-electronic-stability-control/">Electronic stability control (ESC)</a></li> <li><a title="What is hill-start assist? Find out from the Parkers car glossary" href="https://www.parkers.co.uk/what-is/hill-start-assist/">Hill-start assist</a></li> <li>Grip Xtend for low traction surfaces</li> <li>Electric front windows</li> <li>Air-conditioning</li> <li>Rear <a title="What are parking sensors? Find out from the Parkers car glossary" href="https://www.parkers.co.uk/what-is/parking-sensors/">parking sensors</a></li> <li>Rubber load floor covering</li> <li>Six load lashing points</li> </ul> <h2>Verdict</h2> <p>This van is distinctive and good to drive on the one hand, brash and almost eye-wateringly expensive on the other.</p> <p>And since there are already other small vans we would choose over the Kangoo – the <a title="Ford Transit Connect (2013 onwards) full review on Parkers Vans" href="https://www.parkers.co.uk/vans/reviews/ford/transit-connect/2013/">Ford Transit Connect</a>, <a title="VW Caddy (2015 onwards) full review on Parkers Vans" href="https://www.parkers.co.uk/vans/reviews/volkswagen/caddy/2015/">VW Caddy</a> and <a title="Fiat Doblo Cargon (2010 onwards) full review on Parkers Vans" href="https://www.parkers.co.uk/vans/reviews/fiat/doblo-cargo/2010/">Fiat Doblo Cargo</a> / <a title="Read the full Vauxhall Combo (2012 onwards) review on Parkers Vans" href="https://www.parkers.co.uk/vans/reviews/vauxhall/combo/2012/">Vauxhall Combo</a> being the strongest alternatives – it's difficult to recommend this model unless you're really taken with the Formula Edition looks.</p> <h2>Rivals to Consider:</h2>